The C21st Learner
Berkman Center releases report on youth and digital media. Digital Differentiation ~ Cool Tools for 21st Century Learners | Digital Citizenship in Schools. 15 Sites Building and Promoting Educational PBL Communities… Across School and Around the Globe. Welcome to the fourth in a series of PBL Mania Posts .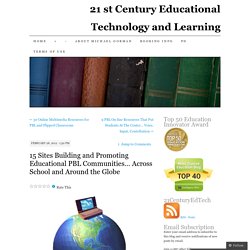 For the next few weeks I am celebrating Project Based Learning. In this post I will introduce you to some outstanding collaboration tools found on the web that can be used in the PBL classroom. Three Skills Every 21st-Century Manager Needs. The world of work has changed dramatically over the past decade.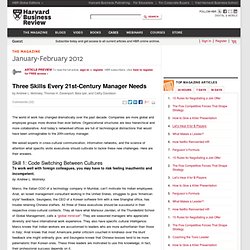 Companies are more global and employee groups more diverse than ever before. Organizational structures are less hierarchical and more collaborative. And today's networked offices are full of technological distractions that would have been unimaginable to the 20th-century manager. 3 Must-Have Technology Tools For Your Classroom. Classrooms need more than just chalk and a few notebooks.
There's a plethora of technology out there but how do you choose what's right for you? What's the best technology for your particular classroom? Here are a few examples of helpful technology perfect for teachers young and old. eReaders. This Year's 10 Best TED Talks To Share With Students. In honor of the recent TED Live announcement , I thought it'd be a good idea to remind you why TED rocks.
Below is just a small fraction of the amazing presentations put on by the folks over at TED. Each one of the presentations embedded below is perfect for sharing with students and showing in class*. Heck, assigning the viewing of these TED talks as homework isn't a bad idea. Do you use TED in the classroom? I'd love to hear about it if you did and I know the rest of the Edudemic community would too! Rethinking Curriculum. Recently I was visiting some friends who are also teachers who got me thinking about the words "21st century skills".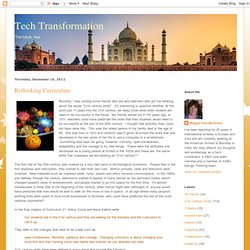 It's interesting to question whether, at this point just 11 years into the 21st century, we really know what skills student will need to be successful in the future. My friends asked me if 100 years ago, in 1911, teachers could have predicted the skills that their students would need to be successful at the end of the 20th century. Rubrics - Bloom's Digital Taxonomy. Students Reflect on Their Own Learning. We are always talking about the ideal education should be a learner-centered setting.
Learners can be in charge of their learning with options to different paths and paces. Learners will participate in the designing of their learning processes. So the first thing of all is that they have their voices heard. More and more teachers have their students reflect on their own learning experience. 21 Things That Will be Obsolete in 2020. This week, we feature the most popular posts of the year on MindShift.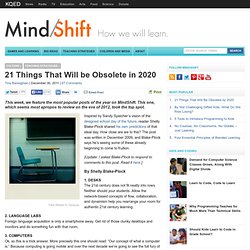 This one, which seems most apropos to review on the eve of 2012, took the top spot. Flickr:Robert S. Donavan Inspired by Sandy Speicher's vision of the designed school day of the future, reader Shelly Blake-Plock shared his own predictions of that ideal day. How close are we to this?
---