Drinks
Get flash to fully experience Pearltrees
I'm not one to pass up a cocktail, but I also don't want to consume a ton of sugar or unnecessary calories.
Many of us would confess to possessing a sweet tooth (or two), but when we mix the words "sweet" and "wine," things can get nasty pretty quickly. But there's no reason to be afraid: there's a whole world of wines out there that can be delicious with dessert, without bearing any resemblance to the wine coolers and white Zinfandels of our nightmares.
Jello Shots have been a staple of college partying for years now, so we felt like it was finally time to move past the original recipe. Check out these 21 jello shot recipe variations – you're sure to find one to your liking. What You Need:
Photo by Nicole Fara Silver Alcoholic drinks can be a sneaky source of calories, sugar, and even salt — but not when you play bartender. Try to get a few healthier alternatives under that (suddenly much looser) belt to impress friends and family and order with confidence when out at the bar.
Did you know both apples and cinnamon raise your metabolism? When you drink as much water as I do (a gallon daily) you just get sick of it!
This recipe makes Bloody Marys by the pitcher full, exactly the way you'll need to because they are so good!
A pitcher of cool, refreshing sangria or punch makes any barbecue or summer party a little more special. Browse our collection of red, white, and pink sangrias, as well as fresh, fruity coolers and punch recipes, both alcoholic and alcohol-free, made with watermelon, pineapple, cucumber, raspberries, and more summer fruit. Choose a crisp white wine, such as Sauvignon Blanc or Pinot Grigio, and mix in orange liqueur, fresh ginger, lemon juice, basil, or mint leaves.
We understand. Staying fit, healthy, and happy sometimes means enjoying more than one glass of red wine .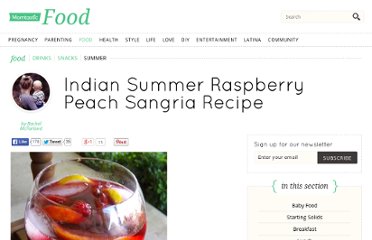 What better way to celebrate than with some sangria ?
The very first time we ever had this was when we visited the Bahamas.
Unless you are reading this in Anchorage, this would be a good time of year to lay away those brawny Barolos, epic cabernet sauvignons and high-octane zinfandels. It's summertime; the drinkin' is easy.