COI
PHP: Hypertext Preprocessor. IDE - PHP Development. A dedicated PHP coding environment and complete integration with web standards, with full support for HTML5, JavaScript, and CSS3 development, as described on the HTML5 Web Development Support page.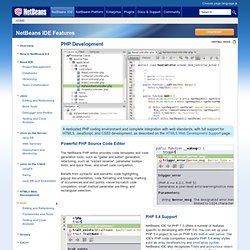 Powerful PHP Source Code Editor The NetBeans PHP editor provides code templates and code generation tools, such as "getter and setter" generation, refactoring, such as "instant rename", parameter tooltips, hints, and quick fixes, and smart code completion. Xampp for windows. COPE. Editors. The peer-review process is at the heart of scientific publishing.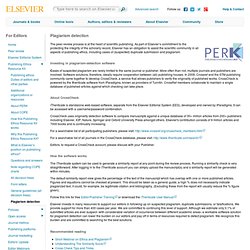 As part of Elsevier's commitment to the protecting the integrity of the scholarly record, Elsevier has an obligation to assist the scientific community in all aspects of publishing ethics, including cases of (suspected) duplicate submission and plagiarism. Investing in plagiarism-detection software Cases of suspected plagiarism are rarely limited to the same journal or publisher. More often than not, multiple journals and publishers are involved. Software solutions, therefore, ideally require cooperation between (all) publishing houses. Plagiarism Policy. OCTOBER 2006 (revised June 2010) 1.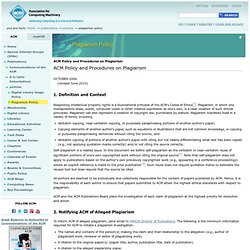 Definition and Context Respecting intellectual property rights is a foundational principle of the ACM's Codes of Ethics[1]. Elsevier PERK. The publication of an article in a peer-reviewed journal is an essential building block in the development of a coherent and respected network of knowledge.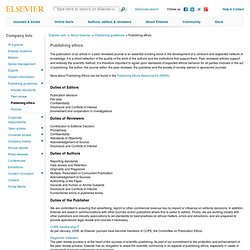 It is a direct reflection of the quality of the work of the authors and the institutions that support them. Peer-reviewed articles support and embody the scientific method. It is therefore important to agree upon standards of expected ethical behavior for all parties involved in the act of publishing: the author, the journal editor, the peer reviewer, the publisher and the society of society-owned or sponsored journals.
Blackwell Author Services. 1.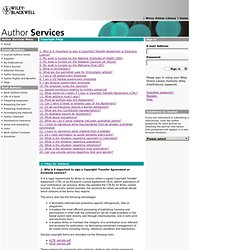 Why is it important to sign a Copyright Transfer Agreement or Exclusive Licence? It is a legal requirement for Wiley to receive either a signed Copyright Transfer Agreement (CTA) or an Exclusive Licence Agreement (ELA) before publication of your contribution can proceed.
---