Art
alt
Filed under: Photographie | Tags: Anvers, exposition, galerie | Fifty One Fine Art Photography presents a selection of early Saul Leiter's black & white photographs, including unpublished ones, from the 50s and 70s and the first exhibition in Belgium of the work of Vivian Maier (USA, 1926-2009). Fifty One Fine Art Photography, Anvers. 26.04.2013 > 29.06.2013. Filed under: Photographie | Tags: Charleroi, exposition | Pendant plus de deux ans et demi, Pierre Liebaert a photographié une mère et son fils de 40 ans qui vivent ensemble, à Momignies-Macquenoise, village pointé au hasard sur la carte de la Belgique. Musée de la Photographie, Charleroi. 26.01.2013 > 12.05.2013.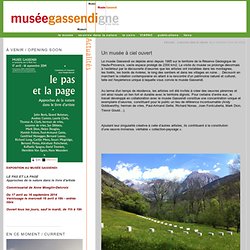 La collection hors les murs, Musée Gassendi, CAIRN, Cathédrale Notre Dame du Bourg, Digne les Bains - Alpes de Haute Provence
Le musée Gassendi se déploie ainsi depuis 1995 sur le territoire de la Réserve Géologique de Haute-Provence, vaste espace protégé de 2300 km2. La visite du musée se prolonge désormais à l'extérieur par la découverte d'oeuvres que les artistes ont installées dans les montagnes, les forêts, les bords de rivières, le long des sentiers et dans les villages en ruine… Découvrir en marchant la création contemporaine en allant à la rencontre d'un patrimoine naturel et culturel, telle est l'expérience unique à laquelle vous convie le musée Gassendi. Au terme d'un temps de résidence, les artistes ont été invités à créer des oeuvres pérennes et ont ainsi noués un lien fort et durable avec le territoire dignois.
herman de vries - official website
Home : Frédéric Platéus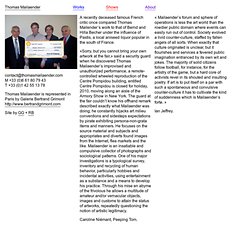 Rencontres internationales de la Photographie d' Arles: Group exhibition curated by Erik Kessels, Martin Parr, Joan Fontcuberta, Clement Cheroux, Joachim Schmid.http://www.rencontres-arles.com Cathedrals car will be part of the group show "Car fetish. I drive therefore I am." at the Museum Tinguely from June 8 – October 9, 2011.http://www.tinguely.ch « The Chain » Group exhibition curated by Stuart Pilkington.http://www.stuartpilkington.co.uk
About « Thomas Mailaender
Ouno Design
Pascal Bronner
ARTISTS LIST - Galerie Perrotin
Cortex Athletico