Cloud Technology In Teaching and Learning
This infoKit was first published in 2004 and is currently being updated. Back in 2004 when we wrote this infoKit, we defined a VLE as – 'A Virtual Learning Environment is a collection of integrated tools enabling the management of online learning, providing a delivery mechanism, student tracking, assessment and access to resources'. These integrated tools may be one product (eg BlackBoard, Moodle) or an integrated set of individual, perhaps open-source, tools. This definition still holds true with most education providers using a 'product' for example Blackboard or Moodle with Web2.0 tools being used to supplement the functionality offered by these systems, but these are often not truly integrated. Although written a few years ago, most of the advice and guidance remains sound. Of course the screenshots are out of date!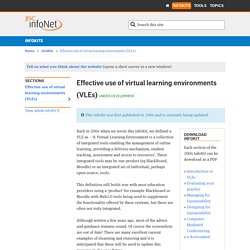 Cost/Benefit Of ICT
E-Learning Policy Manager
This is a new post and will require the E-Learning Policy Manager to be involved in the development and implementation of e-learning policy across the organisation; working with senior academic colleagues to ensure that local strategies for e-learning are suitable and successful, and that the policy and guidance is in place to enable the effective use of technology for learning. You will be required to work across various areas of e-learning: from the use of the VLE, to open educational resources, to policy development around assessment and feedback, social media, copyright and IP as well as working alongside colleagues in the E-Learning Unit to support services with robust policy and guidance, and will work directly to QM's Head of E-Learning.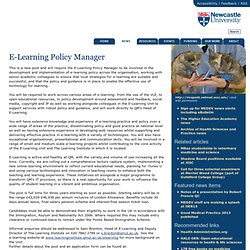 Case Studies
Apps for Education - All Work. All Play.
The University of St Andrews has Gone Google
On February 15th the Google Apps for Education UK User Group will convene for the first time at Loughborough. @LboroResStaff will be there to keep an eye out for anything eyecatching from a research staff perspective, and may well tweet using #guug11 if anything interesting pops up. Research e-Resource Officer at Lboro, based in the Research Office with responsibilities in the Graduate School, and close collaboration with the e-Learning Team (Teaching Centre) and the Library.
Google Apps for Education UK User Group | Research Staff @ Lboro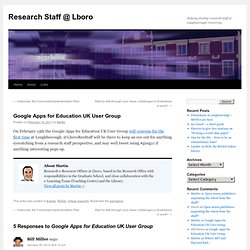 Cloud Learning Environments - Slideshare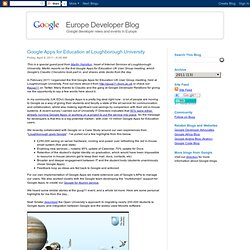 Google Apps for Education at Loughborough University Friday, April 8, 2011 | 8:08 AM This is a special guest post from Martin Hamilton , head of Internet Services at Loughborough University.
Google Apps for Education at Loughborough University - European Developer Blog
Watershed School
The Watershed School selects Google Apps Education Edition to manage its cutting-edge curriculum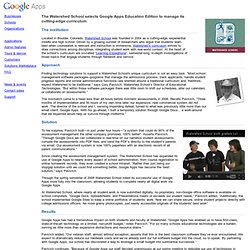 University of Notre Dame on Google Apps Education Edition
Case Studies Trinity College Dublin
Monash University
UK Edu Institutions Gone Google
With comments from the Colleges by ianhallk9 Feb 20
Cloud Computing Research
The Downside Of Cloud Computing In Education
The Downside of Cloud Computing in Education Cloud computing, in recent years, has become the focus of intense educational debates and arguments.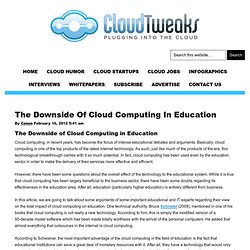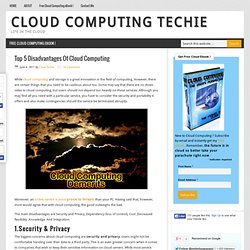 While cloud computing and storage is a great innovation in the field of computing, However, there are certain things that you need to be cautious about too. Some may say that there are no down sides to cloud computing, but users should not depend too heavily on these services . Although you may find all you need with a particular service, you have to consider the security and portability it offers and also make contingencies should the service be terminated abruptly.
Top 5 Disadvantages Of Cloud Computing
Cloudtweaks Promises and Realities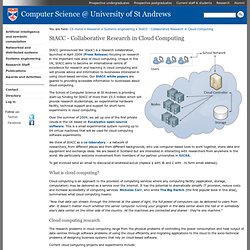 StACC (pronounced like 'stack') is a research collaboration, launched in April 2009 ( Press Release ) focusing on research in the important new area of cloud computing. Unique in the UK, StACC aims to become an international centre of excellence for research and teaching in cloud computing and will provide advice and information to businesses interested in using cloud-based services. Our StACC white papers are geared to providing accessible information to businesses about cloud computing.
StACC - Collaborative Research in Cloud Computing
LSCITS-Cloud
JISC Research Paper
JISC Legal Cloud Computing and the Law Toolkit (31/08/2011)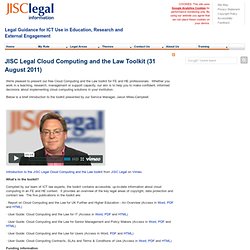 We're pleased to present our free Cloud Computing and the Law toolkit for FE and HE professionals.
e-Learning programme
Cloud computing and emerging IT platforms
Emerging practice
Google Groups
Google Groups
Chromebook - Guided Tour
Chromebooks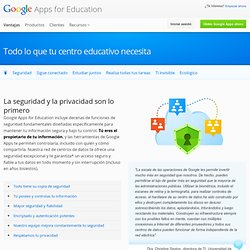 Google Apps for Education comporte un grand nombre de fonctionnalités de sécurité critiques conçues spécialement pour vous garantir la sécurité et le contrôle de vos données.
Google Docs: Campaign Speech
Apps Marketplace
Apps to help K-12 and University students, teachers, and administrators manage learning and processes.
Education Apps
Google Apps Marketplace
Google Docs
Introducing a new Google Docs
Calendar – Google Apps for Education
Google Calendar Tutorial
Gmail
Gmail Youtube Demonstration
The Pupil Premium was introduced in April 2011 and is allocated to schools to work with pupils who have been registered for free school meals at any point in the last six years (known as 'Ever 6 FSM'). This calculator shows your school's Pupil Premium allocation for 2012-13 (when the Premium was worth £623 for each eligible child) and provides an estimate for 2013-14, when the value of the Premium will rise to £900. For more information about the Pupil Premium, visit: http://www.education.gov.uk/ . The Sutton Trust-EEF Teaching and Learning Toolkit is an accessible summary of educational research which provides guidance for teachers and schools on how to use their resources to improve the attainment of disadvantaged pupils. The Toolkit currently covers 30 topics, each summarised in terms of their average impact on attainment, the strength of the evidence supporting them, their cost and their applicability.
Sutton Trust Report
What Is SCL
OFSTED Peer Assessment
25 Jun 2009 Ofsted
What do we want to know?
Peer Assessment Research
OFSTED Excellence Gateway
Assessment is the process by which learners demonstrate their understanding of an area, usually to prescribed national standards.