Ropa
Twobirds Bridesmaid | How to Tie. 6 Dollar Shirts - Funny T-Shirts For Only $6. New Graphic Tees and Cool Shirt Designs Daily! Get Any 10 Of Our Original Tees For Only $50!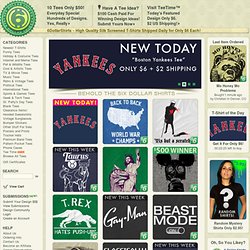 As if $6 for one of our awesome original t-shirts wasn't cheap enough, we are offering you, the sweet public, a bountiful ten t-shirts for the absurdly low price of only 50 bucks! Pick from over 300 tantalizing designs in over 15 different titillating categories. No other online t-shirt store can even come close to these prices! Your discount will be applied automatically to your shopping cart total at the time of checkout. Looks for Less: Top 10 Bargain Shops | Shoestring Magazine (TM) Sure, most shoppers know about the big three when it comes to getting current looks on the cheap (H&M, Forever 21, Charlotte Russe), but Shoestring's staffers thought we'd take this opportunity to share with you our favorite indie haunts and mainstream havens for finding that coveted Look for Less — some you may not have heard of before. 1.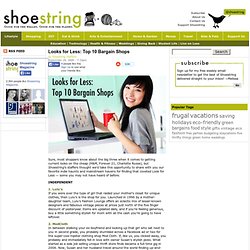 Lulu'sIf you were ever the type of girl that raided your mother's closet for unique clothes, then Lulu's is the shop for you. Weddington Way. Back to top Whether it be a short flirty chiffon number or a strapless form-fitting satin gown, we believe there is the perfect dress for each and every bride, bridesmaid, and body type.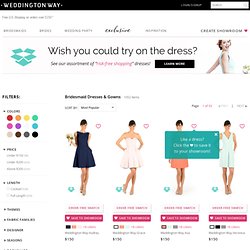 While it may seem like a daunting task to find your ideal bridal party look, we've narrowed it down to a few simple steps. Check them out below. Start With Color You've got to begin your search somewhere and we recommend it begin with color. Party Dresses | Women´s Going Out Dresses. Wendy's Lookbook.
Prom Dresses - Vintage Clothing - Unique Vintage - Prom Dresses, Flapper Dresses, Unique Gifts. We carry the highest quality, largest variety of prom dresses and pinup clothing. - Cocktail, Cute, Retro, & Vintage-Style Women's Dresses | ModCloth. On the hunt for cute dresses?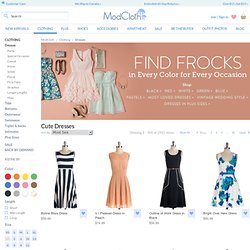 Today's your lucky day! Whether you seek party dresses or casual dresses in bright hues or classic neutrals, you're sure to find a vintage-style or indie dress to treasure from our great selection of cute dresses. Looking for the perfect party frock for a birthday fete, school dance, or special occasion?
Choose from our amazing variety of cute dresses, including ret...More.
---