Computer
The Winhelponline Blog - Windows 7/Vista/XP Tips, Fixes and Troubleshooting. When you click on the Documents, Pictures, Music or Videos library from the Start menu, nothing may happen.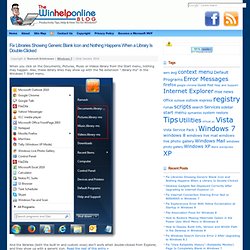 Also, these library links may show up with the file extension ".library-ms" in the Windows 7 Start menu. And the libraries (both the built-in and custom ones) don't work when double-clicked from Explorer, and they show up with a generic icon. Read the rest of this entry » Windows 7 | 8 Tips, Features and Downloads | The Windows Club. Windows 8 Forums. Downloadable Computer Repair CDs. One of our Technibble forum members, PcTek9, and a handful of other Technibble members have compiled a large list of CDs for various computer repair tasks.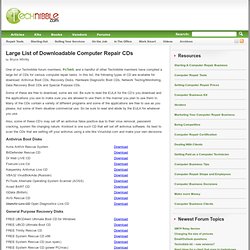 In this list, the following types of CD are available for download: Antivirus Boot CDs, Recovery Disks, Hardware Diagnostic Boot CDs, Network Testing/Monitoring, Data Recovery Boot CDs and Special Purpose CDs. Some of these are free to download, some are not. Toolz. The Unofficial Web Applications List. S Open-Source Programs - SciLor's grooveshark™.com Downloader. SciLor's grooveshark™.com Downloader is a tool for downloading and playing music from Grooveshark™.com.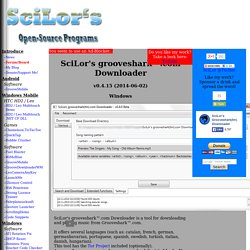 It offers several languages (such as: catalan, french, german, germanbavarian, portuguese, spanish, swedish, turkish, italian, danish, hungarian). This tool has the Tor Project included (optionally).Are you from germany, where grooveshark(tm) is blocked? Speccy - System Information - Free Download. Speccy System Information Speccy is an advanced System Information tool for your PC.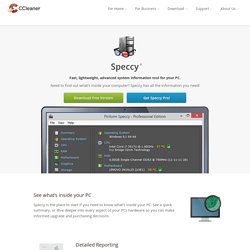 Need to find out what's inside your computer? No problem! Speccy will give you all the information you need. Windows 8, Windows 7 Tips, Downloads, Security, Phones, Live, Office. System Utilities. 7-Zip 4.577-Zip is a file archiver with high compression ratio.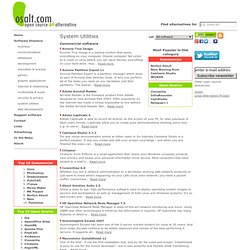 It supports the following formats for packing/unpacking: 7z, ZIP, GZIP, BZIP2 and TAR - and the following for unpacking only: RAR, CAB, ARJ, LZH,... Read more Amanda Amanda is a network backup solution in which the Amanda server runs on a single machine on your LAN - multiple clients can then connect to backup their local data.
---