Cakes
Gooey Butter Cake Recipe & Variations | The Budget Diet. German Chocolate Gooey Butter Cake Recipe type: Dessert Author: Kristl Story, TheBudgetDiet.com Prep time: Cook time: Total time: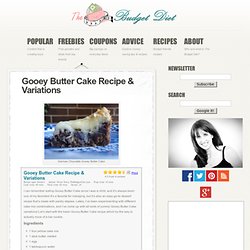 A Blast From the Past. I'm just finishing up the photos for my next recipe, but since we're entering into flowery, lovely springtime, I wanted to bring this quick and easy—and too precious for color TV—dessert idea from my archives.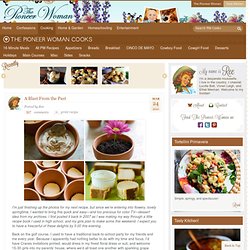 I first posted it back in 2007 as I was making my way through a little recipe book I used in high school, and my girls plan to make some this weekend. I expect you to have a freezerful of these delights by 5:00 this evening. Back on the golf course, I used to have a traditional back-to-school party for my friends and me every year.
Because I apparently had nothing better to do with my time and focus, I'd have Cranes invitations printed, would dress in my finest floral dress or suit, and welcome 15-30 girls into my parents' house, where we'd all toast one another with sparkling grape juice and feast on chicken salad with dill and baked brie and things like that. Parkin cake recipe. We know what it's like when you're browsing a site with as many recipes as ours.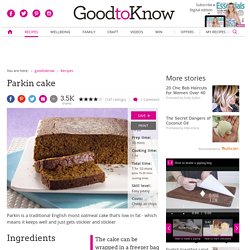 You find a brilliant recipe, want to make it again, but can't remember how you found it! But we've solved the problem. Now, by clicking 'Save this recipe' or 'I cooked this' on any of our recipes, they'll be saved and grouped into your personal online recipe book. All you have to do is log in with your Facebook account to see them.
When you click either of these buttons it will also tell your friends on Facebook what you've been cooking or saving so they too can give our quick and easy recipes a go (but you can turn this off at any time by visiting your 'My recipe book' page). Moist Chocolate Cake. There's something to be said for a cake that you can whip up at 9 o'clock on a Friday night, after a serious doozy of a week, when you need some baking therapy that requires little to no brain power.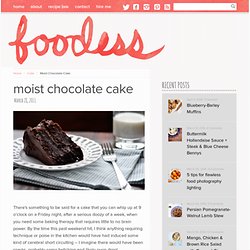 By the time this past weekend hit, I think anything requiring technique or poise in the kitchen would have had induced some kind of cerebral short circuiting – I imagine there would have been sparks, probably some twitching and likely even drool. Okay fine, so there might have been drool anyway. Cake batter blondies. | girl meets life. I don't say this very often.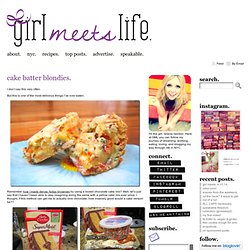 But this is one of the most delicious things I've ever eaten. Remember how I made dense, fudgy brownies by using a boxed chocolate cake mix? Well, let's just say that I haven't been able to stop imagining doing the same with a yellow cake mix ever since. I thought, if this method can get me to actually love chocolate, how insanely good would a cake version be?? Fresh Strawberry Yogurt Cake. Fresh Strawberry Yogurt Cake Fresh Strawberry Yogurt Cake Every time I take the kids berry picking, I think to myself, "I could totally do this.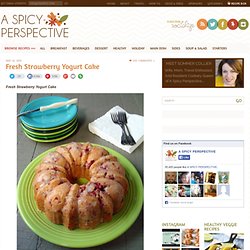 Banana Nutella Pound Cake Recipe. A few weeks ago I tried out Paula Deen's Butter Pound Cake recipe for the first time and instantly fell in love.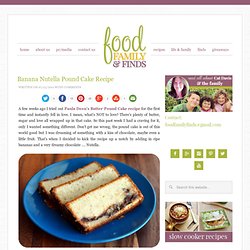 I mean, what's NOT to love? There's plenty of butter, sugar and love all wrapped up in that cake. So this past week I had a craving for it, only I wanted something different. Don't get me wrong, the pound cake is out of this world good but I was dreaming of something with a kiss of chocolate, maybe even a little fruit. No Bake Granola Cakes. Big changes are happening over on my workouts page and even bigger changes are happening with my marathon training plans.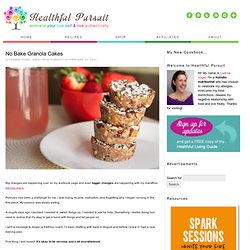 February has been a challenge for me, I was losing muscle, motivation, and forgetting why I began running in the first place. My passion was slowly exiting. A couple days ago I decided I needed to switch things up, I needed to ask for help. Vertical Layer Cake Tutorial. I really need to preface this tutorial with...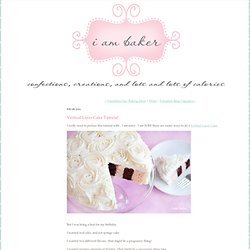 I am sorry. I am SURE there are easier ways to do a Vertical Layer Cake. But I was being a brat for my birthday. Nutella Mug Cake. I have been experimenting with different mug cakes every since I heard about them about a year ago.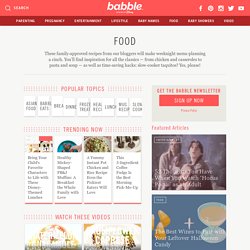 None of them have been winners. They were either too chewy, too dry, or not sweet enough. Well, I continued experimenting, and thought why not add some decadent Nutella into the mix. Desserts for the Deserving. The need can be anything from a new baby to a hospital stay to the loss of a loved one. The desire on our part is the same, to make life easier for the recipient. To give them a gift of a warm, comforting, homemade meal. When my church reached out and asked if I could bring a meal to a family that just had their first child I said yes before she could finish talking. Having just have had a baby myself, I know how wonderful a small kind gesture can be! Sweet saturday: one minute peanut butter cake & Food & back to her roots.
Picture this scene: it's 8:30 in the evening. The sky is just starting to get dark outside your living room window. You ate a delicious, healthy and veggie-filled dinner a few hours ago and now you are ready to sit down to the most recent episode of So You Think You Can Dance and dive into a decadent plate of dessert. Oh wait, you have no dessert. SugarBlog - The Ultimate Ice Cream Cake Cookie Pie.