Video
Module. FlashPlayer - h264 - Trac. Back Implementing Pseudo Streaming for MP4 is similar to FLV, with a few exceptions.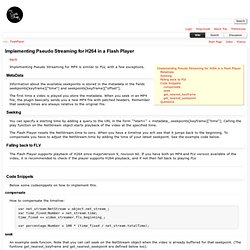 Information about the available seekpoints is stored in the metadata in the fields seekpoints[keyframe]["time"] and seekpoints[keyframe]["offset"]. The first time a video is played you store the metadata. When you seek in an MP4 file, the plugin basically sends you a new MP4 file with patched headers. Vitalic: Birds. Kaltura: Open Source Video Developer Community | Leading the Open Video Revolution. Kaltura: Open Source Video Platform. Top Video Editing Apps for iPhone 3GS. iPhone 3.0 brought video editing on-the-go to iPhone 3GS so that you don't have to wait until you're at your computer to start editing your mobile movies.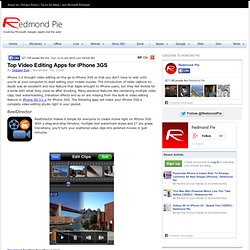 The introduction of video capture no doubt was an excellent and nice feature that Apple brought to iPhone users, but they felt limited for a while with what they could do after shooting. Many advance features like combining multiple video clips, text watermarking, transition effects and so on are missing from the built-in video editing feature in iPhone OS 3.1.x for iPhone 3GS. 35 Google open-source projects that you probably don't know. This text is translation of: 34 projekty Open Source udostępnione przez Google Update: Currently list is longer than 35 projects, during change from Polish to English I have added one new project - and this is why title says 35 instead 34 ;).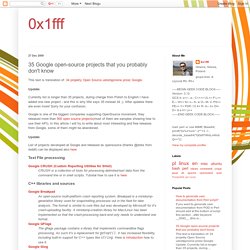 After updates there are even more! Sorry for your confusion.
---