GAMING
What does 'video game' mean, anyway? Social network games like "Pet Society" and "FarmVille" continue to attract tens of millions of players.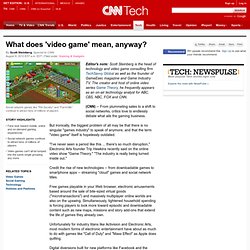 Fans look toward mobile, online and on-demand gaming experiences Social network games continue to attract tens of millions of players Video games can't all be lumped into the same single grouping any more Editor's note: Scott Steinberg is the head of technology and video game consulting firm TechSavvy Global as well as the founder of GameExec magazine and Game Industry TV.
The creator and host of online video series Game Theory, he frequently appears as an on-air technology analyst for ABC, CBS, NBC, FOX and CNN. (CNN) -- From plummeting sales to a shift to social networks, critics love to endlessly debate what ails the gaming business. Are video games the next great art form? - Nonfiction - Salon.co. Video games have come a very long way since the 1980s, when we were all still blowing into our Super Mario Brothers cartridges and admiring the graphics in Metroid.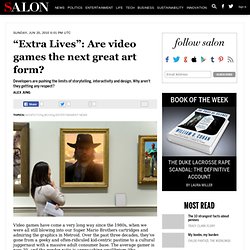 Over the past three decades, they've gone from a geeky and often-ridiculed kid-centric pastime to a cultural juggernaut with a massive adult consumer base. The average gamer is now 30, and the gender ratio is approaching equilibrium (the male-female ratio is roughly 60-40). Video games are now the most consumed medium ever, with annual sales topping $20 billion. But it's not just the audience that's changed. As Tom Bissell, a journalist, former Salon writer and lifelong gamer, explains in his new book, "Extra Lives: Why Video Games Matter," the graphics, storytelling and interactivity of gaming have all made tremendous leaps forward in recent years, allowing players to intermingle with nuanced, fleshed-out digital characters in near-photo-realistic environments.
Okay, kids, play on my lawn. I was a fool for mentioning video games in the first place.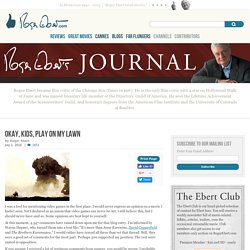 I would never express an opinion on a movie I hadn't seen. Yet I declared as an axiom that video games can never be Art. I still believe this, but I should never have said so. Some opinions are best kept to yourself.
The Most Impressive Thing I Saw At E3, News from GamePro.
---