Cloth flowers
How to make the Origami Rose
How to make an Origami Jasmine Flower Napkin
Ribbon: How To's
Kanzashi: Pointed Petal
Ribbon Flowers using Scrap Ribbon- 2nd Instruc. Contest : Hip Girl Boutique - , Ribbons, Hair Bows, Hair Clips, Hairbow Hardware, Free Hairbow Instructions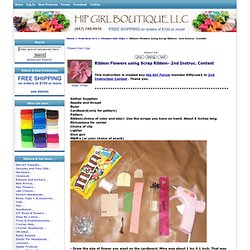 This instruction is created buy Hip Girl Forum member Kittycow2 in 2nd Instruction Contest . Thank you. Gather Supplies: Needle and thread Ruler Cardboard(only for pattern) Pattern Ribbon(choice of color and size)- Use the scraps you have on hand.
Ruched Ribbon Flower « Nikki, In Stitches
Tutorial on how to make a Five point ribbon flower - Pin Tangle - Pin Tangle
These Flowers are just to easy to make.
Ribbon Flowers