Cool Pictures
- StumbleUpon. Liquid Particles - spielzeugz.de canvas experiment - StumbleUpon. 25 Stunning HDR Wallpapers. 25 Breath Taking HD Nature Wallpapers. The Mind-Blowing Mount Roraima - All That Is Interesting - StumbleUpon.
Mount Roraima is the highest of the Pakaraima mountain chain in South America and one of the world's most extraordinary natural geological formations.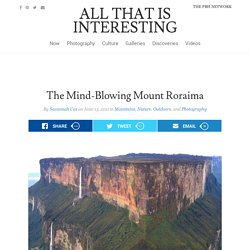 The 31 square kilometer summit area of Mount Roraima is defined by 400 meter tall cliffs on all sides and includes the borders of Brazil, Venezuela, and Guyana. The tabletop mountains of the Pakaraima's are considered some of the oldest geological formations on Earth, dating back to over two billion years ago.
---