Software
The Beginner's Guide to iTunes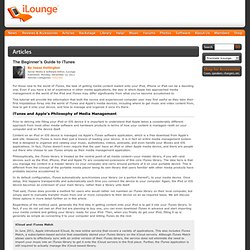 For those new to the world of iTunes, the task of getting media content loaded onto your iPod, iPhone or iPad can be a daunting one. Even if you have a lot of experience in other media applications, the way in which Apple has approached media management in the world of the iPod and iTunes may differ significantly from what you've become accustomed to. This tutorial will provide the information that both the novice and experienced computer user may find useful as they take their first trepidatious foray into the world of iTunes and Apple's media devices, including where to get music and video content from, how to get it onto your device, and how to manage and organize it once it's there. iTunes and Apple's Philosophy of Media Management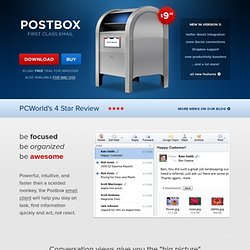 Awesome Gmail Support* Gmail Label support makes organizing easy Dedicated Important view for high-priority messages Send and Archive your messages in just one step Add detected dates to your Google Calendar Support for Gmail keyboard shortcuts for the power user * If you don't have Gmail, no worries... because Postbox works great with any POP or IMAP email account, including Yahoo!, Hotmail, MobileMe/iCloud, AOL, Comcast, Dreamhost, Rackspace, Zimbra and many more.
Postbox — Awesome Email
If you love your iPhone or iPod Touch but simply hate iTunes, you do have some options that let you manage your device without having to use it. Most of those apps tend to skimp a little on features, and are often broken as soon as there's an iPod or iPhone software update. CopyTrans Manager is a new jukebox application for Windows that's fast, lightweight, does just about everything iTunes can do including access the iTunes Music Store, and does it all for free.
CopyTrans Manager Frees Your iPod or iPhone from iTunes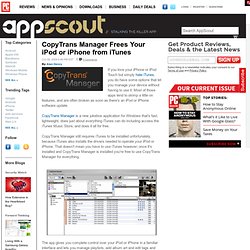 When dealing with computer security, an often overlooked security risk is so-called "deleted files". When files are deleted, nothing is actually done to them aside from marking them as "free-space". The OS may get around to overwriting them sometime when it needs the space, but a deleted file could sit on a drive completely intact for weeks of usage (the bigger it is the bigger the chance it will be at least partially overwrited). Encryption applications that do not involve real-time decoding (a special driver decrypting files on-the-go vs an application decrypting and re-encrypting files), often do not have secure methods of wiping files (or the user is unaware of them), and hence the files are left in an unencrypted state on the drive when deleted. The only way to assure deleted files remain that way (or at least make their recovery very difficult and time-consuming) is to have an application overwrite the drives free-space with random 0s/1s, ideally multiple times.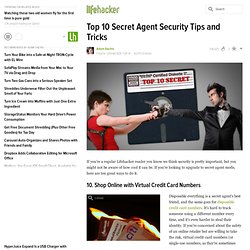 Most Popular Fitness Tracking Web Site: Fitocracy
The Best PDF Viewer/Editor for Windows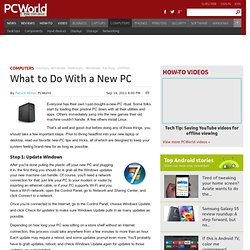 What to Do With a New PC
Everyone has their own I-just-bought-a-new-PC ritual. Some folks start by loading their pristine PC down with all their utilities and apps. Others immediately jump into the new games their old machine couldn't handle. A few others install Linux.
Five Best Fitness Tracking Web Sites and Services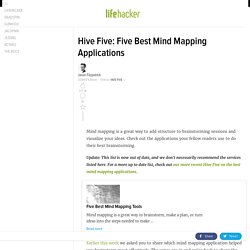 Are there any programs out there that allow a person to create a series of steps to accomplish a task type thing? Example: 8 steps to bake cookies. Mix dry ingredients, melt butter in bowl, add dry ingredients, mix at low speed, poor into pan, bake at 325 for 30 minutes, cut brownies, eat and enjoy.
About - nomad.en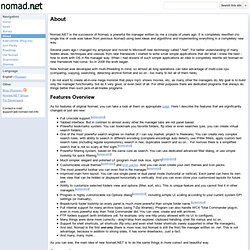 Nomad.NET is the successor of Nomad, a powerful file manager written by me a couple of years ago. It is completely rewritten (no single line of code was taken from previous Nomad) using best ideas and algorithms and implementing everything in a completely new way. Several years ago I changed my employer and moved to Microsoft new technology called ".Net". For better understanding of many hidden areas, techniques and classes from new framework I started to write small simple applications that did what I knew the best - how to work with OS in file manager way.
Skitch Communicate with fewer words using annotations, shapes and stamps, so that your ideas become reality faster. Learn more about Skitch ▶ Premium feature PDF Annotation Give fast, friendly feedback on PDFs by adding arrows, text and shapes.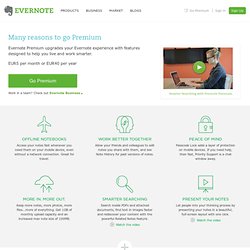 Make your world even more notable | Evernote Corporation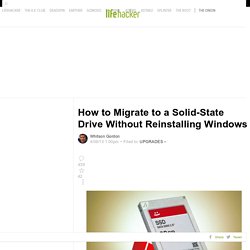 1. Defrag (Moves files to the front of the Drive.) [www.piriform.com] 2. Shrink the Partition to 10% less than your SSD's Size (In Win 7's Disk Management) 3.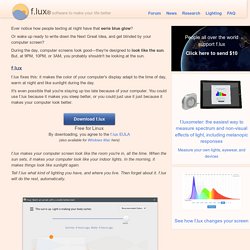 Ever notice how people texting at night have that eerie blue glow? Or wake up ready to write down the Next Great Idea, and get blinded by your computer screen? During the day, computer screens look good—they're designed to look like the sun. But, at 9PM, 10PM, or 3AM, you probably shouldn't be looking at the sun.
Sry, but you can ignore almost all above given tips and simply follow his last tip, which is to install a Solid State Drive! It's not important if there are 10 or 20 more files, fonts or drivers to load at Windows start. The access time of SSDs is with 0.1ms so fast, that 1st Loading of both Excel + Word 2007 at the same time, takes only about 0.2s.
How to Get Mac OS X's Best Features on Windows - Lifehacker
The placement of the ctrl, alt, and command keys is one of "Mac OS X's best features"? In a way. Many people (including non-Mac people) really prefer Alt+C to Control+C type shortcuts.
I appreciate what you're saying here, but I tend to disagree with most of it. I think things like text expansion actually offer an alternative to the shorthand writing conventions that have been ushered in with the era of SMS and Twitter. Text expansion is able to yield identical results in fewer keystrokes. This promotes efficiency, not laziness. In fact, I would argue that text expansion actually serves to mitigate some of the adverse effects of laziness.
Top 10 Awesome Things You Can Do With Text
@Rose Tyler: Not sure if you meant "you" as in myself specifically, or a more general "you" so I'll answer both. Personally, I use Linux as my primary OS, and I browse with FlashBlock plus NoScript with strict settings. I do almost no browsing in Windows, and my NoScript settings are even tighter there. For a more general answer: you don't have to change OSes to be relatively safe, you just have to adopt good habits.
How to Stay Secure Online
While I've never heard the term "freezes" for save states, they are a very useful feature. However, a word of caution — be careful to not overuse them. They can really cheapen a game if you use them too much. You start out just using them to make saving and loading a little bit faster, but before you know it, you're saving in times you have no business saving, like in the middle of a long RPG battle, just redoing any mistake you make.
How to Calibrate Your HDTV and Boost Your Video Quality in 30 Minutes or Less
10 Social Networking Add-Ons for Firefox - Page 2