Software
The Beginner's Guide to iTunes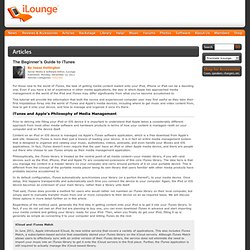 For those new to the world of iTunes, the task of getting media content loaded onto your iPod, iPhone or iPad can be a daunting one.
Postbox — Awesome Email
If you love your iPhone or iPod Touch but simply hate iTunes, you do have some options that let you manage your device without having to use it. Most of those apps tend to skimp a little on features, and are often broken as soon as there's an iPod or iPhone software update. CopyTrans Manager is a new jukebox application for Windows that's fast, lightweight, does just about everything iTunes can do including access the iTunes Music Store, and does it all for free.
CopyTrans Manager Frees Your iPod or iPhone from iTunes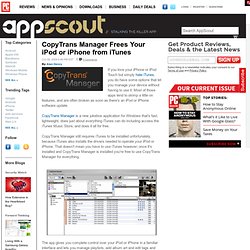 If you're a regular Lifehacker reader you know we think security is pretty important, but you might not be aware of how cool it can be. If you're looking to upgrade to secret agent mode, here are ten great ways to do it. 10. Shop Online with Virtual Credit Card Numbers SExpand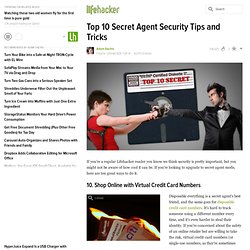 It's a great way to measure what you're doing, while seeing what others are doing and try out new exercises, ask for advice from a great collective of people, find people with similar interests/goals and help keep each other motivated, and such. Keep in mind that the site is in beta and that they do have a lot in store. They've made quite a number of improvements since I've been here, and seem set in their path in creating new ways for us to compete with each other and track our progress. The site basically gives people a way to stay focused, motivated, and moving forward in their goals. Maybe that isn't an issue for you, but when my workout buddies start slacking, it can certainly get tough doing it by myself. 9/20/11 10:15pm
Most Popular Fitness Tracking Web Site: Fitocracy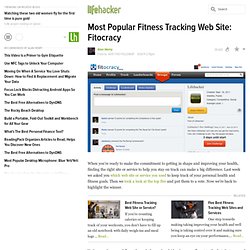 The Best PDF Viewer/Editor for Windows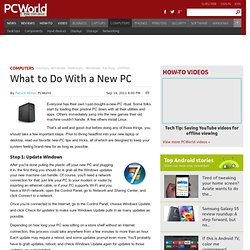 What to Do With a New PC
Everyone has their own I-just-bought-a-new-PC ritual. Some folks start by loading their pristine PC down with all their utilities and apps. Others immediately jump into the new games their old machine couldn't handle. A few others install Linux.
There seems to be several newer readers that are confused about how a Hive Five article works. Let me clarify. Yes, some popular choices (DailyMile for example) are missing from the above. From the article: "Earlier this week we asked you which sites or services you preferred to track your health goals, diet progress, and exercise habits. You responded with dozens of suggestions, and now we're here to highlight the top five."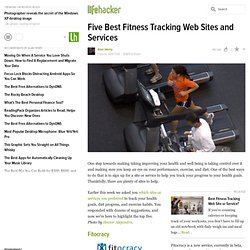 Five Best Fitness Tracking Web Sites and Services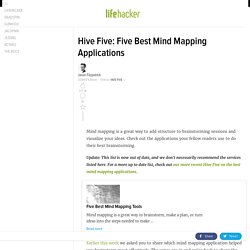 Are there any programs out there that allow a person to create a series of steps to accomplish a task type thing? Example: 8 steps to bake cookies. Mix dry ingredients, melt butter in bowl, add dry ingredients, mix at low speed, poor into pan, bake at 325 for 30 minutes, cut brownies, eat and enjoy.
About - nomad.en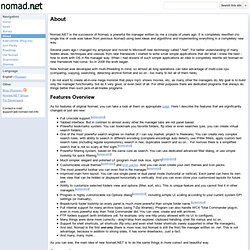 Nomad.NET is the successor of Nomad, a powerful file manager written by me a couple of years ago. It is completely rewritten (no single line of code was taken from previous Nomad) using best ideas and algorithms and implementing everything in a completely new way. Several years ago I changed my employer and moved to Microsoft new technology called ".Net". For better understanding of many hidden areas, techniques and classes from new framework I started to write small simple applications that did what I knew the best - how to work with OS in file manager way.
Penultimate Penultimate is the original and easiest-to-use handwriting app for iPad that combines the natural experience of pen and paper with the flexibility and syncing of Evernote.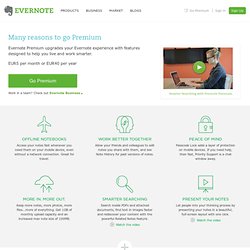 Make your world even more notable | Evernote Corporation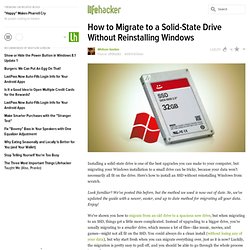 Installing a solid-state drive is one of the best upgrades you can make to your computer, but migrating your Windows installation to a small drive can be tricky, because your data won't necessarily all fit on the drive. Here's how to install an SSD without reinstalling Windows from scratch. Look familiar? We've posted this before, but the method we used is now out of date. So, we've updated the guide with a newer, easier, and up to date method for migrating all your data. Enjoy!
Sry, but you can ignore almost all above given tips and simply follow his last tip, which is to install a Solid State Drive! It's not important if there are 10 or 20 more files, fonts or drivers to load at Windows start. The access time of SSDs is with 0.1ms so fast, that 1st Loading of both Excel + Word 2007 at the same time, takes only about 0.2s.
How to Get Mac OS X's Best Features on Windows - Lifehacker
Whether you're a die-hard Windows fan or simply a Mac user required to occasionally use Windows, it's hard to argue against the fact that Mac OS X has some killer features. Here's how to get the best of them on Windows. If you're a Mac user that has to use Windows at work, needs Boot Camp for a few specific programs, or if you're one of the few that's actually switched from Mac to Windows (instead of the other way around), it can be hard to get used to some of Windows' idiosyncracies.
Text isn't the most glamorous type of media on your computer, but it's one that everyone creates and consumes frequently and it's not as boring as it sounds. To make the best use of the text you encounter and generate on your own, there some tips and tricks you should know. Ten, to be exact. 10. Clean Up Unwanted Formatting
Top 10 Awesome Things You Can Do With Text
In light of recent events, security has been a serious priority for all of us. Although there is no 100% full-proof plan, there are ways to greatly improve your online security and plan for the worst. Here are our recommendations. The Bad News: Nobody's Safe
How to Stay Secure Online
How to Turn Your Computer into a Retro Game Arcade
How to Calibrate Your HDTV and Boost Your Video Quality in 30 Minutes or Less
10 Social Networking Add-Ons for Firefox - Page 2