Software
The Beginner's Guide to iTunes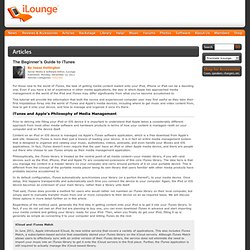 For those new to the world of iTunes, the task of getting media content loaded onto your iPod, iPhone or iPad can be a daunting one.
Postbox — Awesome Email
If you love your iPhone or iPod Touch but simply hate iTunes , you do have some options that let you manage your device without having to use it. Most of those apps tend to skimp a little on features, and are often broken as soon as there's an iPod or iPhone software update. CopyTrans Manager is a new jukebox application for Windows that's fast, lightweight, does just about everything iTunes can do including access the iTunes Music Store, and does it all for free.
CopyTrans Manager Frees Your iPod or iPhone from iTunes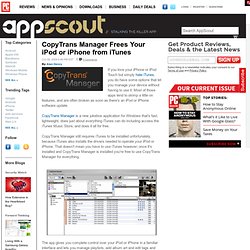 If you're a regular Lifehacker reader you know we think security is pretty important, but you might not be aware of how cool it can be. If you're looking to upgrade to secret agent mode, here are ten great ways to do it. 10. Shop Online with Virtual Credit Card Numbers Disposable everything is a secret agent's best friend, and the same goes for disposable credit card numbers .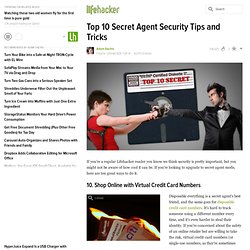 When you're ready to make the commitment to getting in shape and improving your health, finding the right site or service to help you stay on track can make a big difference. Last week we asked you which web site or service you used to keep track of your personal health and fitness goals. Then we took a look at the top five and put them to a vote. Now we're back to highlight the winner. Voting was heavy and fierce through the weekend (due in no small part to the fact that many of the top five put out the call to their members on Facebook and Twitter to come vote in the poll, so keep that in mind) but Fitocracy took the top spot with just over 39% of the votes cast.
Most Popular Fitness Tracking Web Site: Fitocracy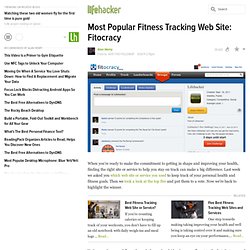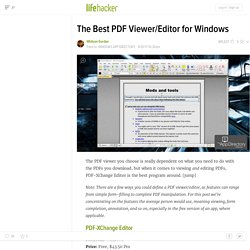 The Best PDF Viewer/Editor for Windows
The PDF viewer you choose is really dependent on what you need to do with the PDFs you download, but when it comes to viewing and editing PDFs, PDF-XChange Viewer is the best program around. Note: There are a few ways you could define a PDF viewer/editor, as features can range from simple form-filling to complete PDF manipulation. For this post we're concentrating on the features the average person would use, meaning viewing, form completion, annotation, and so on, especially in the free version of an app, where applicable.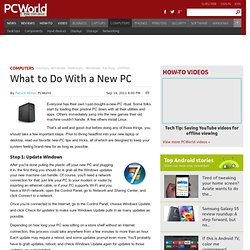 What to Do With a New PC
Everyone has their own I-just-bought-a-new-PC ritual. Some folks start by loading their pristine PC down with all their utilities and apps. Others immediately jump into the new games their old machine couldn't handle. A few others install Linux.
One step towards making taking improving your health and well being is taking control over it and making sure you keep an eye on your performance, exercise, and diet. One of the best ways to do that is to sign up for a site or service to help you track your progress to your health goals. Thankfully, there are plenty of sites to help. Earlier this week we asked you which sites or services you preferred to track your health goals, diet progress, and exercise habits. You responded with dozens of suggestions, and now we're here to highlight the top five. Photo by Hector Alejandro .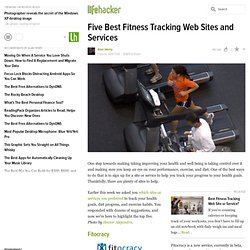 Five Best Fitness Tracking Web Sites and Services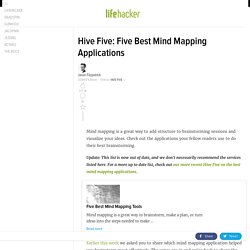 Mind mapping is a great way to add structure to brainstorming sessions and visualize your ideas. Check out the applications your fellow readers use to do their best brainstorming. Earlier this week we asked you to share which mind mapping application helped you brainstorm most effectively.
OneNote « Martin Bodocky
i
About - nomad.en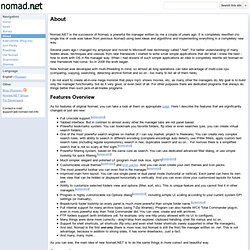 Nomad.NET is the successor of Nomad, a powerful file manager written by me a couple of years ago. It is completely rewritten (no single line of code was taken from previous Nomad) using best ideas and algorithms and implementing everything in a completely new way. Several years ago I changed my employer and moved to Microsoft new technology called ".Net". For better understanding of many hidden areas, techniques and classes from new framework I started to write small simple applications that did what I knew the best - how to work with OS in file manager way.
Evernote Premium gives you bigger upload capacity, offers greater sharing options, gives you access to note history, and more. Plus, you get better document searching, faster image recognition, and more. All for just $5.00 per month or $45.00 per year.
Make your world even more notable | Evernote Corporation
Installing a solid-state drive is one of the best upgrades you can make to your computer, but migrating your Windows installation to a small drive can be tricky, because your data won't necessarily all fit on the drive. Here's how to install an SSD without reinstalling Windows from scratch. Important Update: Some readers have written in reporting that this method does not work with Windows 8. We're looking for another method, but in the meantime if you want to move Windows 8 to an SSD, you should do a fresh install. Luckily, it's pretty easy to do a fresh install without losing any of your stuff . We've shown you how to migrate from an old drive to a spacious new drive , but when migrating to an SSD, things get a little more complicated.
Ever notice how people texting at night have that eerie blue glow ? Or wake up ready to write down the Next Great Idea, and get blinded by your computer screen? During the day, computer screens look good—they're designed to look like the sun .
If there's one thing everyone dreads, it's rebooting their computer. It may only take a minute or two, but it can seem like forever. Here are our top 10 tweaks that'll make your computer boot a little faster. Photo by Alex Schwenke . This is a pretty controversial topic, as there are a lot of startup-tweaking myths out there. So, we took to the streets (of the internet) and searched for as many easy, well-supported tips as we could find.
How to Get Mac OS X's Best Features on Windows - Lifehacker
Whether you're a die-hard Windows fan or simply a Mac user required to occasionally use Windows, it's hard to argue against the fact that Mac OS X has some killer features. Here's how to get the best of them on Windows. If you're a Mac user that has to use Windows at work, needs Boot Camp for a few specific programs, or if you're one of the few that's actually switched from Mac to Windows (instead of the other way around), it can be hard to get used to some of Windows' idiosyncracies.
Top 10 Awesome Things You Can Do With Text
How to Stay Secure Online
How to Turn Your Computer into a Retro Game Arcade
How to Calibrate Your HDTV and Boost Your Video Quality in 30 Minutes or Less
10 Social Networking Add-Ons for Firefox - Page 2