Outils collaboratifs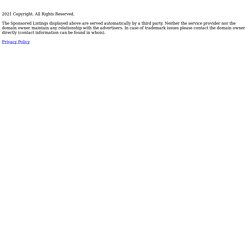 More examples The whiteboard reinvented Visualize, explore, collaborate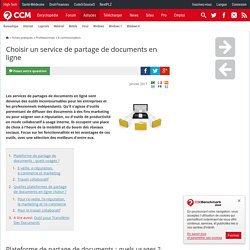 Choisir un service de partage de documents en ligne
Les services de partages de documents en ligne sont devenus des outils incontournables pour les entreprises et les professionnels indépendants. Qu'il s'agisse d'outils permettant de diffuser des documents à des fins marketing ou pour soigner son e-réputation, ou d'outils de productivité en mode collaboratif à usage interne, ils occupent une place de choix à l'heure de la mobilité et du boom des réseaux sociaux. Focus sur les fonctionnalités et les avantages de ces outils, avec une sélection des meilleurs d'entre eux.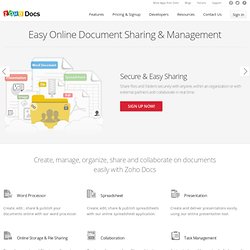 Cost-Effective You don't have to install or maintain hardware and software and reasonably priced subscription plans lead to more cost savings. Anytime Anywhere Access Being a web-based document management solution you can take all your documents with you wherever you go with access to them anytime, anywhere. Reduced IT burden Scalability, security, reliability or software upgrades, we have them all covered, so you can focus on enhancing business productivity. Enhanced business continuity Storing your files online keeps all your valuable data safe from various threats and calamities and ensures the normal functioning of your business is not affected.
Weezo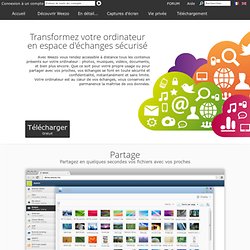 Transformez votre ordinateur en espace d'échanges sécurisé Avec Weezo vous rendez accessible à distance tous les contenus présents sur votre ordinateur : photos, musiques, vidéos, documents, et bien plus encore. Que ce soit pour votre propre usage ou pour partager avec vos proches, vos échanges se font en toute sécurité et confidentialité, instantanément et sans limite. Votre ordinateur est au cœur de vos échanges, vous conservez en permanence la maîtrise de vos données. Partage Partagez en quelques secondes vos fichiers avec vos proches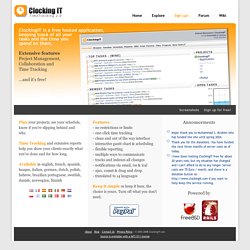 Plan your projects, see your schedule, know if you're slipping behind and why. Time Tracking and extensive reports help you show your clients exactly what you've done and for how long. Available in english, french, spanish, basque, italian, german, dutch, polish, hebrew, brazilian portuguese, swedish, danish, norwegian, finnish Features - no restrictions or limits - one-click time tracking - clean and out of the way interface - interactive gantt chart & scheduling - flexible reporting - multiple ways to communicate - tracks and indexes all changes - notifications via email, rss & ical - ajax, comet & drag and drop - translated to 14 languages Keep it simple or keep it busy, the choice is yours. Turn off what you don't need.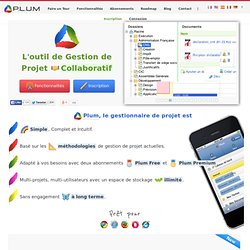 Vos témoignagesJ'utilisais auparavant l'équivalent de Microsoft, et Plum est 10x mieux ... Plum est Beau et agréable.Vincent OLIVERSimple mais efficace, une gestion des tâches et des documents approfondies..Jonathan DAVIDPlum est idéal pour gérer un cahier des charges !Zakatchi XAMARUHUn outil détaillé qui répond à une gestion précise des projets. Personnellement je trouve l'outil bien pensé et la gestion du temps est une très bonne application.Mathieu DARTIGUES Facile de prise en main, représentation et gestion des processus en lien avec les autres fonctionnalités sont très appréciées par notre équipe.
Team Collaboration Network
AjaXplorer - 0. organisation