Crowdsourcing
Forget static lists & Web 1.0 directories. The Daily Crowdsource has compiled the first, the largest, and the only definitive list of crowdsourcing companies . If your company isn't listed, it doesn't exist (If, however, we really did forget you, add your company & introduce yourself you shy bastard). We've compiled a list of over 150 companies actively providing crowdsource services to their clients. An additional 100 sites were rejected for not meeting our quality standards, which require the main operation to be crowdsourcing . Marketplaces, individual projects, or sites that collaborate without the use of a crowd made up the bulk of rejected sites.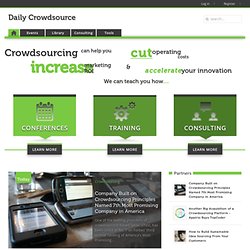 The Daily Crowdsource compiles first definitive crowdsource company directory | The Daily Crowdsource - #1 site for crowdsourcing news
[Crowd Leader] Jason Burrows: Back to Basics | The Daily Crowdsource - #1 site for crowdsourcing news
Any loyal follower of The Daily Crowdsource could not fail but notice the growing awareness and attention that crowdsourcing is now receiving, worldwide. Crowdsourcing seems to hold a fascination for us all, perhaps because of its democratising credentials and its belief that a good idea can come from anyone, anywhere. Over the last 12 months the promise of crowdsourcing's power has started to be fulfilled; and looking ahead I think it's not too extravagant a claim to see 2011 as being the year when crowdsourcing really 'comes of age.' However, before we all go tripping over one another in crowdsourcing's version of a land grab, it might be worth stopping for a moment – with the festive season acting as an appropriate tinsel strewn time-out, and reflect on the fact that we are still debating over the basics of our art.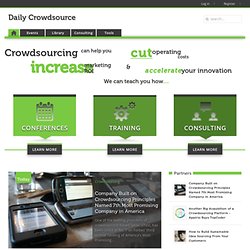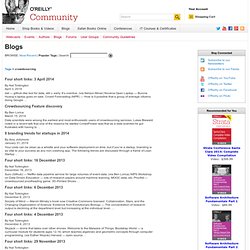 O'Reilly Media | Browse Blogs by Tag
Tags > crowdsourcing Four short links: 6 February 2013 By Nat Torkington February 6, 2013 Manipulating Google Scholar Citations and Google Scholar Metrics: simple, easy and tempting (PDF) — scholarly paper on how to citespam your paper up Google Scholar's results list. Fortunately calling your paper "AAAAAA In-vitro Qualia of …" isn't one of the … Four short links: 11 January 2013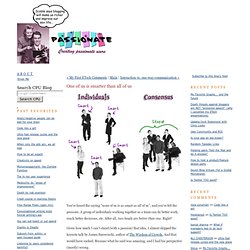 « My First ETech Comments | Main | Interaction vs. one-way communication » One of us is smarter than all of us You've heard the saying "none of us is as smart as all of us", and you've felt the pressure. A group of individuals working together as a team can do better work, reach better decisions, etc.
One of us is smarter than all of us
blur Group - Reinventing tomorrow, today.
I'm really excited and honored to be speaking today at the SXSW Interactive Festival in Austin, TX, on a panel with Beth Kanter, Dave Neff, Holly Ross and Kari Saratovsky. We'll be facilitating a conversation, more than doing a formal presentation, and will focus on the power of crowdsourcing (using our own case study from conducting the Social Media for Social Good case study competition) and the application of social media in nonprofit program delivery. If you're here in Austin, do join us! If not, you can follow the conversation in real time on Twitter with the hashtag #crowdx . (We'll put up more notes after the session, too!)
Crowdsourcing: Community vs Crowd « Amy Sample Ward's Version of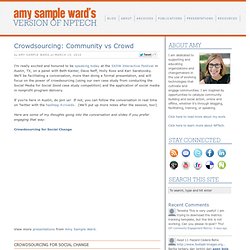 Working Wikily.pdf (application/pdf Object)
First directory of community crowdsourcing projects launches today | The Daily Crowdsource - #1 site for crowdsourcing news
The Daily Crowdsource is continuing to break ground in the crowdsourcing industry with today's launch of the first major directory of community projects. The directory was constructed to showcase crowdsourcing projects without cash incentives which are otherwise fragmented around the Internet. Daily Crowdsource has relationships with and reports on several crowdsourcing companies that offer commercial listings, however, there's currently no home for small projects without budgets. It seems fitting to bring that listing here and offer the free service to the crowdsourcing community. The Daily Crowdsource is the first to offer a home for projects without monetary prizes.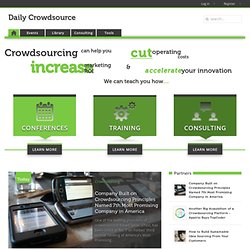 Crowdsourcing an introduction