Make it
Ellipses | Industrial Design Sketching and Drawing Tutorials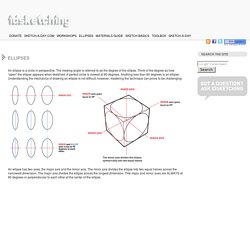 An ellipse is a circle in perspective. The viewing angle is referred to as the degree of the ellipse. Think of the degree as how "open" the ellipse appears when sketched. A perfect circle is viewed at 90 degrees. Anything less than 90 degrees is an ellipse. Understanding the mechanics of drawing an ellipse is not difficult, however, mastering the technique can prove to be challenging.
I love this Sharpie tie die DIY from The Art Girl Jackie blog! She did it with her adorable daughter and I think it's a fun inspiration for this Spring and upcoming music festival season. Use this technique to spruce up your ratty t-shirts or maybe a pair of of cut off shorts. For another idea, check out how to spruce up your clothes with DIY leopard print here! What You Need: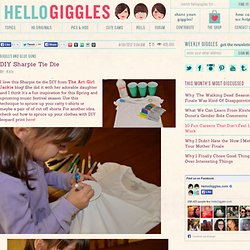 GLOBTRIKZ24x7 – Enhancing Photos with High Pass Filter
January 26, 2009 From Abduzeedo's Blog Following our series of quick tips, I will show you how to enhance a regular photo in Photoshop and make it look better. Of course you can change the presets in order to make it look more subtle, my idea was to exaggerate a bit. Also we will use the Shadows/Highlight adjustments showing how you can easily simulate a sort of HDR style. Step 1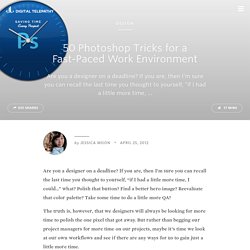 Are you a designer on a deadline? If you are, then I'm sure you can recall the last time you thought to yourself, "if I had a little more time, I could…" what? Polish that button? Find a better hero image? Reevaluate that color palette?
Cow Hitch -- I Will Knot!
The web is a powerful resource that can easily help you learn new skills. You just have to know where to look. Sure, you can use Google, Yahoo, or Bing to search for sites where you can learn new skills , but I figured I'd save you some time. Here are the top 40 sites I have personally used over the last few years when I want to learn something new. Hack a Day - Hack a Day serves up fresh hacks (short tutorials) every day from around the web and one in-depth 'How-To hack' guide each week.eHow - eHow is an online community dedicated to providing visitors the ability to research, share, and discuss solutions and tips for completing day-to-day tasks and projects.Wired How-To Wiki - Collaborate with Wired editors and help them build their extensive library of projects, hacks, tricks and tips.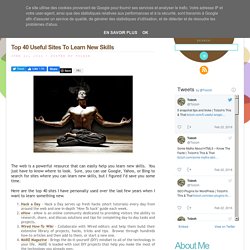 Holy Eco-Bookcase, Batman! Reclaimed Wood Rotating Bookcase State of Green
A Modern Take on the Doily $850 Lamp for less than $50? Yes Please! Hello Pretty people!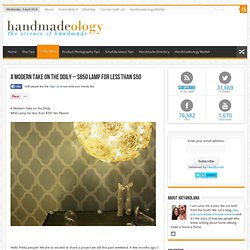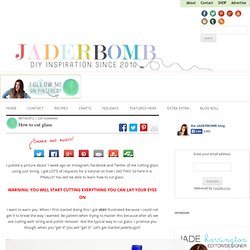 I posted a picture about 1 week ago on Instagram, Facebook and Twitter of me cutting glass using just string. I got LOT'S of requests for a tutorial on how I DID THIS! So here it is. FINALLY! You will be able to learn how to cut glass.
s Jewelry Findings: Bead Caps + Cones
As soon as Lauren and I saw this editorial in Flare Magazine, we knew we had to recreate these awesome, friendship bracelet-like necklaces. We promise they are super easy to make and the perfect way to pass the time during those long summer roadtrips. To make a 2-tone necklace, cut a long piece of rope and wrap two different colors of embroidery thread around its own bobbin. Tie a starter knot along with the two colored threads you are using, leaving at least 3 inches of slack, Tape down the slack to a flat surface or safety pin it something that will help keep it in place (feeling nostalgic yet?). Lay the color that isn't being used (shown here in purple) in your left hand, along with the rope, and hold them taut.