Online Business
Get flash to fully experience Pearltrees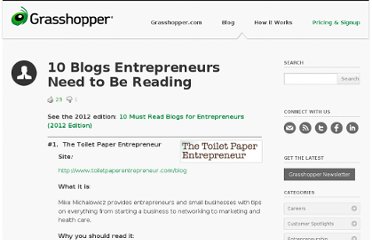 Category September 11, 2009 See the 2012 edition: 10 Must Read Blogs for Entrepreneurs (2012 Edition) #1.
So many times email signatures are an afterthought and not really looked at as an opportunity to sell.
Facebook Insights is an analytics tool which you can use to see how people are interacting with your fan page, much like Google Analytics. It's a powerful and free tool which is provided by Facebook to give you a better insight into your following, and with the release of the new version, it's better than ever before. Insights This is sort of like the GA Dashboard; it allows you to look at the general overview of all of your key statistics, which is good for people who don't really know what to do with the information. The first thing you'll see is the four key statistics at the top of the page which covers the amount of likes you have, your reach, and how much is has changed in the past week. All of these stats have an arrow with a percentage going up or down, based on the changes in the last seven days, compared to the seven days before then.
What's the "rule" for making the leap from "beginner" to "full-time online" this year? I'm always talking with our customers who have made that leap and now work from home and make a full-time income with their local online marketing business. And what I'm about to share with you, at first may sound daunting, but that feeling will quickly be replaced with exhilaration. It's called "The 100 Hour Rule".
There's an old saying that goes like this: Do you know the difference between a pit bull and a Yorkie? You will if they bite you. Both will get someone's attention, but in ways that won't be appreciated. Marketers who are aggressive and pushy drive people away, but so do marketers that bounce around nipping for attention.
Email Share 278 Email Share So you want to build a membership site huh? Deciding to do it is the easy part! Once that decision is made there are SO many different factors that go into the actual creation of the site. Unlike a simple WordPress blog, where you can basically install and go, a membership site has MANY more components.
While Fotolia does not specialize in any specific subject, they are seeking high quality marketable stock photography. Stock photography covers so many subjects, cultures, issues, concepts, and ideas. In addition stock photography is always changing.