Curling/texturizing
Vintage 1950's curly hair tutorial ala Marilyn Monroe by CHERRY DOLLFACE. How To: Mermaid Waves Hairstyle. Bottle it up. The best stuff in life is free.
Like sunshine, blue skies and THE OCEAN…if you have access to it, that is. Which I don't. And I know it's only January but I'm already Jonesing for spring. So, to scratch the itch, I decided to go with beach hair. Problem was I needed sea spray to get the really beachy look and texture. Curly Hair - Roller Setting Instructions. Get velcro rollers at Amazon.com Velcro or (Self-grip) rollers are great for creating curly hair.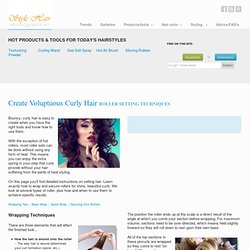 They're quick and fuss-free. Use on wet or dry hair and simply give the roller a little wiggle when you've reached the scalp to help secure. Fun Friday - DIY Beach Hair - asuyeta [ah-soo-yeh-tah] clothes... - StumbleUpon. I love the messy hair/bohemian look.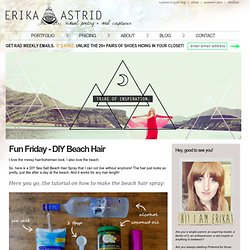 I also love the beach. So, here is a DIY Sea Salt Beach Hair Spray that I can not live without anymore! The hair just looks so pretty, just like after a day at the beach. And it works for any hair length! Here you go, the tutorial on how to make the beach hair spray: Bandana Curls or Rag Curls for Long Hair « Rapunzel's Resource. 10"Fear thou not, for I am with thee; be not dismayed, for I am thy God.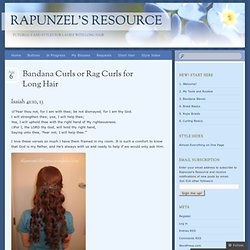 I will strengthen thee; yea, I will help thee; Yea, I will uphold thee with the right hand of My righteousness.13For I, the LORD thy God, will hold thy right hand, Saying unto thee, 'Fear not; I will help thee.'" I love these verses so much I have them framed in my room. It is such a comfort to know that God is my Father, and He's always with us and ready to help if we would only ask Him. I have finally come up with a way to rag curls for really long hair!!! I'm super excited about this one; I think you all will really like it. D.I.Y. Curls // How To Rag Roll Your Hair - A Beautiful Mess - StumbleUpon. I love the look of naturally curly hair!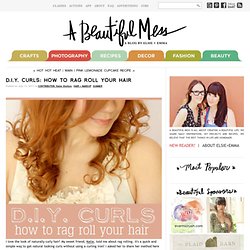 My sweet friend, Katie, told me about rag rolling. It's a quick and simple way to get natural looking curls without using a curling iron! I asked her to share her method here on A Beautiful Mess because I knew you'd be itching to learn like I was!
---