Recipes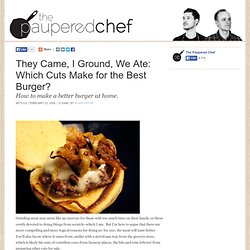 They Came, I Ground, We Ate: Which Cuts Make for the Best Burger?
Grinding meat may seem like an exercise for those with too much time on their hands, or those overly devoted to doing things from scratch--which I am. But I'm here to argue that there are more compelling and more logical reasons for doing so: for one, the meat will taste better. You'll also know where it omes from, unlike with a styrofoam tray from the grocery store, which is likely the sum of countless cows from faraway places, the bits and trim leftover from preparing other cuts for sale. I think the safety of grinding your own beef speaks for itself, but as a consumer that's really up to you.
Bread Recipes: Rustic Italian Bread Recipe
Method In a bowl add 1 1/4 cups lukewarm water, yeast, and a tablespoon of sugar. Mix well and set aside to activate. In a mixer or bowl add the flour, olive oil, and seasonings. When the yeast is activated, add it to the mixture. Mix dough till smooth.
Bread-baking tools and resources for making and enjoying great bread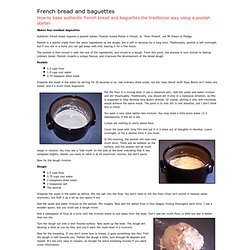 French bread and baguettes How to bake authentic french bread and baguettes the traditional way using a poolish starter Makes four medium bageuttes
French bread - baguettes
Bacon and sharp Cheddar cheese make this a flavorful and hearty cornbread, perfect with chili or baked beans, or serve it with your favorite greens. Prep Time: 22 minutes Total Time: 22 minutes Ingredients: 3/4 cup all-purpose flour1 1/4 cups cornmeal3 tablespoons sugar2 teaspoons baking powder1 teaspoon baking soda3/4 teaspoon salt1 cup buttermilk2 large eggs4 slices bacon, cooked, drained, crumbled1 cup (4 ounces) shredded sharp Cheddar cheese4 tablespoons butter, melted (use half bacon grease, if possible) Preparation:
Bacon and Cheddar Cornbread - Recipe for Cornbread With Bacon