Tutorials
Home - CS Animated
Thinking in C CDROM | Why do you put your books on the web? | Comments from Readers | The Cover Story | Electronic Translations | Strategy | The Electronic Book | HTML Format | Making a Contribution to the Book | Downloading problems | Unzipping | Mirror Sites | Download the book | Download the source code | Win32 Compilers | Chapter 3 is a fairly intense coverage of the C that's used in C++, but if you're just getting started with all this it may be a little too intense. To remedy this, the printed book contains a CD ROM training course that gently introduces you to the C syntax that you need to understand in order to take on C++ or Java. The CD is called Thinking in C: Foundations for Java & C++.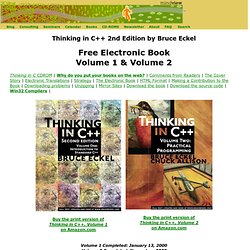 Bruce Eckel's MindView, Inc: Thinking in C++ 2nd Edition by Bruce Eckel
Electrical Engineering and Computer Science | 6.189 Multicore Programming Primer, January IAP 2007
OpenGL Video Tutorial - Home
Engineering Learning Wiki - Research Seminars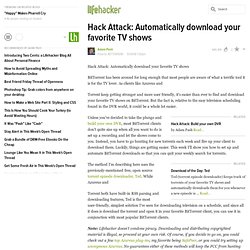 Hack Attack: Automatically download your favorite TV shows
BitTorrent has been around for long enough that most people are aware of what a terrific tool it is for the TV lover. As clients like Azureus and Torrent keep getting stronger and more user friendly, it's easier than ever to find and download your favorite TV shows on BitTorrent. But the fact is, relative to the easy television scheduling found in the DVR world, it could be a whole lot easier.
HOWTO Avoid Being Called a Bozo When Producing XML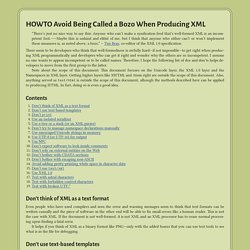 "There's just no nice way to say this: Anyone who can't make a syndication feed that's well-formed XML is an incompetent fool.
OpenGL Video Tutorial - Home