Tech
MironV My Desktop 26.06.2010 by ~MironV
Documentation, Win32 Version
Warning: The document below does not apply to TightVNC 2.0 and later versions. Contents Installation TightVNC is available as a self-installing setup executable. Just run it, and you will see a familiar installation wizard which will allow you to read the installation notes, choose the target directory, set installation options and so on. After the setup program is finished, new "TightVNC" section will appear in the Start->Programs menu.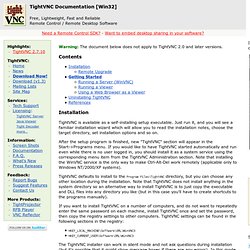 Vine Server (OSXvnc) | Download Vine Server (OSXvnc) software for free at SourceForge
If you are looking for the most complex looking software then Bulk Rename Utility will surely be among the prime candidates. The file renaming software displays all available options on one screen, and boy, there are a lot. The software is available as a portable version, command line version and installer for 32-bit and 64-bit editions of the Windows operating system. The benefit of the installer is the option to integrate the program into the Windows Explorer context menu for easier root folder selection. The main screen is packed to the brim with settings that all define the renaming process.
Bulk Rename Utility, File Renaming Software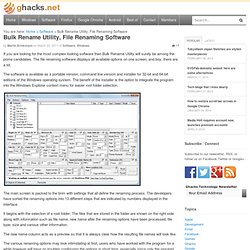 Bordermaker, Manipulate, Resize Images
You may sometimes want to resize an image before you send it to someone via email or upload it to the Internet. This is especially helpful if the original image size is in the Megabytes rather than Kilobytes range. Bordermaker is an interesting program that offers image resizing and manipulation options. Best of all, it is completely free and multi-platform. The application is offered for the Microsoft Windows operating system, Apple Macintosh OS X, Linux and as a generic Java program. Images are resized and manipulated in the program in three straightforward steps.