Bread
Fresh Rosemary-Parmesan Rolls. Fresh Rosemary-Parmesan Rolls are perfect along side any family meal.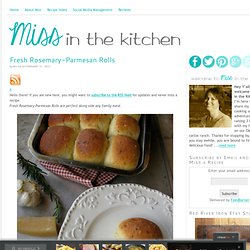 On Friday I did some major spring cleaning in the house. Moving things around, organizing and washed and dried a ton of laundry. No really, I'm pretty sure it was an actual ton. My older boys being the size of men makes for some massive laundry piles. Not to mention the mud and the cow manure and more grosser things that get on our clothes during calving. Frites &fries - Garlic Knots - StumbleUpon.
Garlic Knots Most of my early food memories had to do with all the garlic dishes that my grandmother made.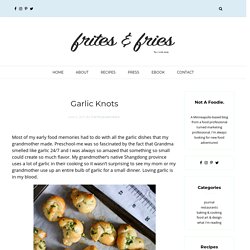 Preschool-me was so fascinated by the fact that Grandma smelled like garlic 24/7 and I was always so amazed that something so small could create so much flavor. My grandmother's native Shangdong province uses a lot of garlic in their cooking so it wasn't surprising to see my mom or my grandmother use up an entire bulb of garlic for a small dinner. Loving garlic is in my blood. Chez Us. Baking bread made easy. As promised, I'm going to share with you the recipe for that wonderful bread in my previous post.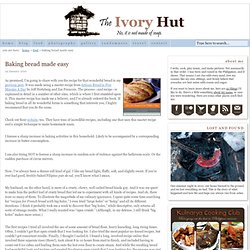 It was made using a master recipe from Artisan Bread in Five Minutes A Day by Jeff Hertzberg and Zoe Francois. The process—and recipe—is explained in detail in a number of other sites, which is where I first stumbled upon it. This master recipe has made me a believer, and I've already ordered the book. If baking bread in all its wonderful forms is something that interests you, I highly recommend that you do the same. Baking bread made easy.
Easy Brazilian Cheese Bread (Pão de Queijo) Recipe. Our tour of Brazil continues.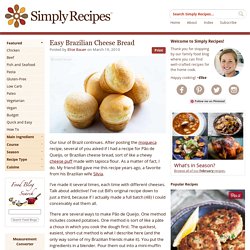 After posting the moqueca recipe, several of you asked if I had a recipe for Pão de Queijo, or Brazilian cheese bread, sort of like a chewy cheese puff made with tapioca flour. As a matter of fact, I do. My friend Bill gave me this recipe years ago, a favorite from his Brazilian wife Silvia.
---