Architecture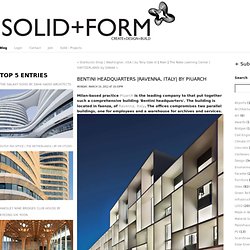 Milan-based practice Piuarch is the leading company to that put together such a comprehensive building 'Bentini headquarters'. The building is located in faenza, of Ravenna, Italy. The offices compromises two parallel buildings, one for employees and a warehouse for archives and services.
Bentini headquarters |Ravenna, Italy| by Piuarch - Blog - Abraham Garcia
The Bentini headquarters by PIUARCH in Faenza, Ravenna, Italy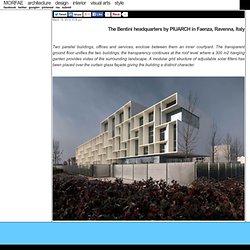 The Bentini headquarters by PIUARCH in Faenza, Ravenna, Italy. Photography by Andrea Martiradonna. 'The new Bentini Headquarters makes its entrance into the community of Faenza as a landmark of architectural quality while, at the same time, blending into and interacting with the countryside and surrounding hills. The project stands out for its linearity.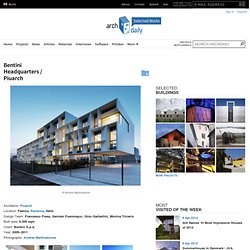 Bentini Headquarters / Piuarch
Architects: Piuarch Location: Faenza, Ravenna, Italia Design Team: Francesco Fresa, Germán Fuenmayor, Gino Garbellini, Monica Tricario Built area: 6,500 sqm Client: Bentini S.p.a. Year: 2009–2011 Photographs: Andrea Martiradonna The new administrative and operational headquarters of Bentini Building & Engineering is in Faenza, set in a sparsely populated area where the landscape is strongly characterized by the presence of farmland. The office building consists of a single, linear volume set back from the road, and has been designed according to the highest standards of quality, combining great flexibility of the interior spaces with a simple and well-organized floor plan on different levels. The top floor can be utilized for events and conferences also by the local residents, offering townspeople an opportunity to experience the space of the company that opens onto the city that hosts it.
.: Piuarch :. | piuarch website
Illustrated Maps
I Don't Want To But I Will: Title Page of Denis Wood's Dissertation Throughout graduate school I heard tales of the Denis Wood's outrageous dissertation, curiously titled I Don't Want To But I Will. Of particular interest are the scathing Acknowledgments, where Denis took his advisors to task. A worn copy of the Acknowledgments was passed among grad students as a bit of intellectual contraband. But the content was what was most important. It's a crazy dissertation.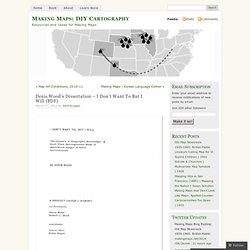 Denis Wood's Dissertation – I Don't Want To But I Will (PDF)
The Maps of Piri Reis
Alastair Cassell – Online Portfolio
Since the Future Toronto illustration went viral last week there's been a lot of curiosity about what I meant to portray. Here are some of my thoughts on it: On the origin of "Future Toronto?" Years ago during a conversation with Matt Blackett of Spacing Magazine, we thought it would be fun to make an image of a drowned Toronto with condo towers poking out of the water and boats tied to them. So when Spacing offered me a double-page spread for its 10th anniversary issue, and gave me carte blanche to propose whatever I wanted - I seized a rare opportunity! I'd been doodling and sketching along the theme of Toronto ruins for years.
Mathew Borrett - Home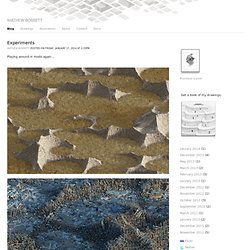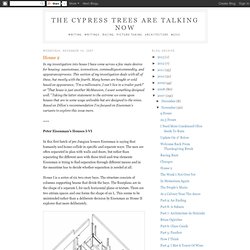 The Cypress Trees are Talking Now: House 2
In my investigation into house I have come across a few main desires for housing: easenotease, iconnoticon, commoditynotcommodity, and appearanceprocess. This section of my investigation deals with all of these, but mostly with the fourth. Many homes are bought or sold based on appearance, "I'm a millionaire, I can't live in a trailer park!" or "That house is just another McMansion, I want something designed well." Taking the latter statement to the extreme we come upon houses that are in some ways unlivable but are designed to the nines. Based on Dillon's recommendation I've focused on Eisenman's variants to explore this issue more.
Steingruber's Alphabet The book about Johann Theodor de Bry's Neiw Kunstliches Alphabet that I mentioned a couple of weeks ago was one of a set of four alphabet-themed volumes by Joseph Kiermeier-Debre and Fritz Franz Vogel that I'd purchased via abebooks from Bücher Thöne of Greven, Nordrhein-Westfalen, Germany. These were originally published by Ravensburger in 1997-98, and seem to have since been re-issued by Urania-Verlag, of Stuttgart. The other three volumes were concerned with the calligraphic alphabet of Paulus Franck, the Alfabeto Pittorico of Antonio Basoli, and the Architectonisches Alphabeth of Johann David Steingruber. It is from this last book that the present images are scanned: In Steingruber's alphabet, published in 1773, each letter of the alphabet is made into a plan of a palatial building.
Giornale Nuovo: Steingruber's Alphabet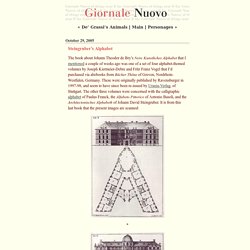 Baumschlager Eberle
Students: Ana Sofia Amador, Gonçalo Batista, João Gama Varandas , Mariana Santana University: Faculdade de Arquitectura de Lisboa – UTL, Portugal Location: Paris, France Cooking, like architecture, manifests itself in building. The cook, like the architect, draws on an infinite array of creative resources which make it possible to create wonders from basic construction materials.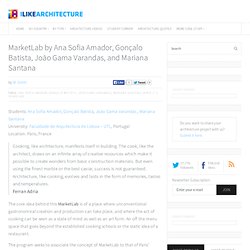 MarketLab by Amador, Batista, Varandas, Santana
NADAAA - NADAAA | ARCHITECTURE | LANDSCAPE | URBAN DESIGN | NADER TEHRANI | KATIE FAULKNER | DAN GALLAGHER
dominc stevens homepage
This project belongs to the vernacular tradition. In this tradition, the knowledge of how to construct a house is held in common by a community. On this website you can download information and inspiration to help you to design and build your own house much like the one in the photo which cost a total of €25,000 to construct. It took me a total of 50 days to build, which I did over two years with the help of friends, family, neighbours and a few specialists... Dominic Stevens B.Arch.