Shaarli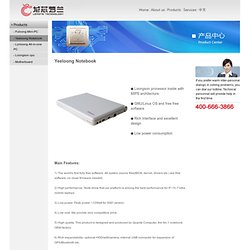 Yeeloong Notebook Loongson processor inside with MIPS architecture GNU/Linux OS and free free software Rich interface and excellent design Low power consumption
#!/usr/bin/env bash src=$PWD ant_build_script_remote=git://github.com/h5bp/ant-build-script.git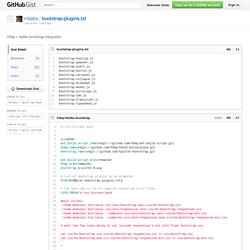 H5BP+Twitter Bootstrap
Compare Ninja
HTML5 Validation Service
Mon site
Stypi
FreeRADIUS includes a RADIUS server, a BSD licensed client library, a PAM library, and an Apache module. In most cases, the word FreeRADIUS refers to the RADIUS server. FreeRADIUS is the most widely deployed RADIUS server in the world. It is the basis for multiple commercial offerings. It supplies the AAA needs of many Fortune-500 companies and Tier 1 ISPs.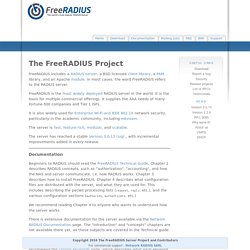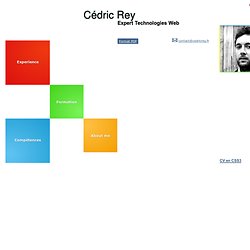 Ce CV se présente sous un format inhabituel. En effet, il utilise la puissance du CSS et plus particulièrement du CSS3. Ce qui m'a permis de mettre en place une présentation plus ergonomique dans un navigateur qu'une liste classique, plus appropriée à l'impression. Cela me permet également de mettre à contribution un support qui n'est autre que mon métier. Plutôt que de m'illustrer dans un domaine que je connais bien avec le Javascript, j'ai préféré utiliser le CSS3, dont les navigateurs compatibles tirent le mieux partie. Conscient que tous ne peuvent profiter au mieux des animations, j'ai mis en place ce CV en y gardant les fonctionnalités de base pour le plus grand nombre.
CV (reste portfolio)
Mageia Linux Online
FSC participated to a European Project named CREPE (acronym of Co-operative Research on Environmental Problems in Europe) between 2009 and 2011. The aims of the CREPE project were: 1. Capabilities: To strengthen CSOs' capacity to participate in research, while engaging with diverse perspectives and expertise – thus facilitating co-operation between researchers and non-researchers, as well as between academics and CSOs. 2. Co-operative research methods: To design, implement, evaluate retrospectively and thus test the methods used for co-operative research in this project, as a basis to inform future efforts.