Webontwerp
GDS design principles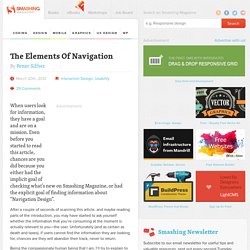 The Elements Of Navigation
When users look for information, they have a goal and are on a mission. Even before you started to read this article, chances are you did because you either had the implicit goal of checking what's new on Smashing Magazine, or had the explicit goal of finding information about "Navigation Design". After a couple of seconds of scanning this article, and maybe reading parts of the introduction, you may have started to ask yourself whether the information that you're consuming at the moment is actually relevant to you—the user.
Best Google Web Fonts
5 Things Your Clients Should Know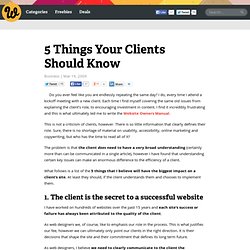 Do you ever feel like you are endlessly repeating the same day? I do, every time I attend a kickoff meeting with a new client. Each time I find myself covering the same old issues from explaining the client's role, to encouraging investment in content.
Distinctive Design: A Practical ... - Alexander Dawson - Google Boeken
Alexander Dawson (alexdawsonuk) op Twitter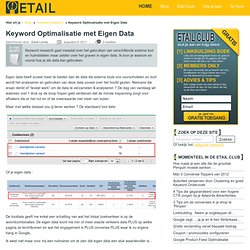 Keyword Optimalisatie door Analyse van Eigen Data, een Echte Goudmijn ! | E-Tail
Keyword research gaat meestal over het gebruiken van verschillende externe tool en hulmiddelen maar zelden over het graven in eigen data.
Wordpress Plugins : 116 WP Plugins in 16 Categorieën | E-Tail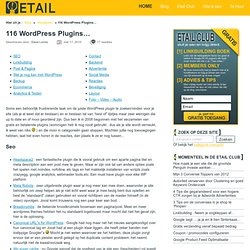 Soms een behoorlijk frustrerende taak om de juiste WordPress plugin te zoeken/vinden voor je site (als je al weet dat er bestaan) en er bestaan tal van 'best of' lijstjes maar zeer weinigen die up to date en of mooi geordend zijn. Dus ben ik in 2008 begonnen met het verzamelen van gratis en betalende plugins (sommigen heb ik nog nooit gebruikt , dus als je site wordt verneukt, ik weet van niks ) en die mooi in categorieën gaan stoppen.
De beste Nederlandse digitale designers bij elkaar.
Typography is an integral part of design.
A Basic Look at Typography in Web Design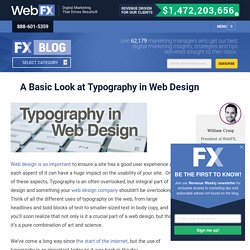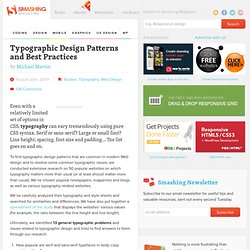 Even with a relatively limited set of options in CSS, typography can vary tremendously using pure CSS syntax.
Typographic Design Patterns and Best Practices - Smashing Magazine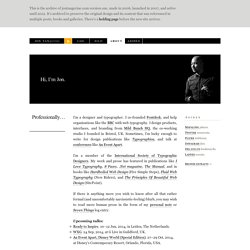 About 陳 Jon Tan
There is one 陳 Tan here (me) and I like to eat tangerines .
All of these web design templates are released as 'open source' designs which means that you are FREE to download and use them for anything you want (including modifying and amending them).
dcarter design - free website templates, free css templates
Kit MacAllister » Designer / Developer
Rosario Florio & Larissa Kasper – SI Special
△ Andrea Rüeger Business Card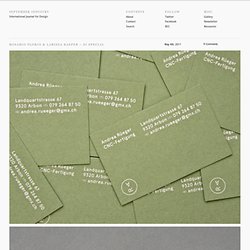 Simon Collison | Colly | The Celebrated Miscellany
Posted: November 2nd, 2008 | Author: Bryan | Filed under: Analytics , General , Open Source , Tutorial | 116 Comments »
Our Special Wordpress Theme | Mid Missouri Web Design | Located in Columbia, MO
Artmov
Neutra: Theme for WordPress
Andrea Mignolo | Oulipo
Inspired by and named after the group Oulipo , this clean, minimal, grid-based theme was created for authors who want their content to shine.
Simple and Minimalistic Scandinavian Web Design
Scandinavian design in general is known for being simple and minimalistic, from IKEA furniture, to Bang & Olufsen TVs, to interior design. Even Scandinavian fashion design, most notably Danish, is known for its simplicity. Many of those aspects of minimalism and simplicity have been inherited by web designers based in Scandinavia, as you're about to see.
7 Key Principles That Make A Web Design Look Good - Noupe Design Blog
9 Essential Principles for Good Web Design
10 Principles Of Effective Web Design - Smashing Magazine
Web Design Principles
Template Showcase - Templates
Wordpress vs Joomla
Open Source CMS / Portals Scripts
25 Beautiful Minimalistic Website Designs
How to Make a Web Site: The Complete Beginner's Guide
SeptemberIndustry - The best in international graphic design and everything in between every week.