Webontwerp
GDS design principles. The Elements Of Navigation. Advertisement When users look for information, they have a goal and are on a mission.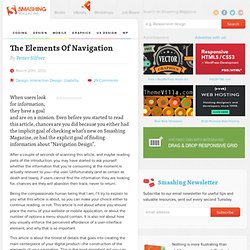 Even before you started to read this article, chances are you did because you either had the implicit goal of checking what's new on Smashing Magazine, or had the explicit goal of finding information about "Navigation Design". After a couple of seconds of scanning this article, and maybe reading parts of the introduction, you may have started to ask yourself whether the information that you're consuming at the moment is actually relevant to you—the user.
Unfortunately (and as certain as death and taxes), if users cannot find the information they are looking for, chances are they will abandon their track, never to return. Best Google Web Fonts. 5 Things Your Clients Should Know. Do you ever feel like you are endlessly repeating the same day?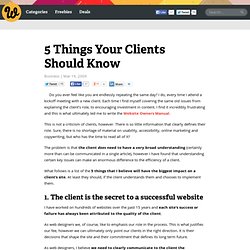 I do, every time I attend a kickoff meeting with a new client. Each time I find myself covering the same old issues from explaining the client's role, to encouraging investment in content.
Distinctive Design: A Practical ... - Alexander Dawson. Alexander Dawson (alexdawsonuk) op Twitter... Wordpress. Oulipo. Content strategy. Keyword Optimalisatie door Analyse van Eigen Data, een Echte Goudmijn ! | E-Tail. Keyword research gaat meestal over het gebruiken van verschillende externe tool en hulmiddelen maar zelden over het graven in eigen data.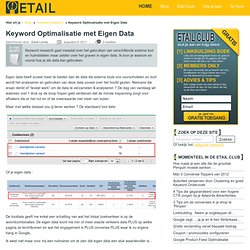 Ik toon je waarom en vooral hoe je die data kan gebruiken. Eigen data heeft zoveel meer te bieden dan de data die externe tools ons voorschotelen en toch wordt het analyseren en gebruiken van deze data zoveel over het hoofd gezien. Niemand die eraan denkt of "teveel werk" om de data te verzamelen & analyseren ? De dag van vandaag wil iedereen met 1 druk op de knop hopen geld verdienen dat de minste inspanning zorgt voor afhakers die er het nut en of de meerwaarde niet meer van inzien. Wordpress Plugins : 116 WP Plugins in 16 Categorieën | E-Tail. Soms een behoorlijk frustrerende taak om de juiste WordPress plugin te zoeken/vinden voor je site (als je al weet dat er bestaan) en er bestaan tal van "best of" lijstjes maar zeer weinigen die up to date en of mooi geordend zijn.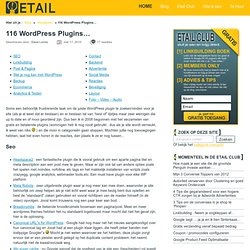 Dus ben ik in 2008 begonnen met het verzamelen van gratis en betalende plugins (sommigen heb ik nog nooit gebruikt , dus als je site wordt verneukt, ik weet van niks ) en die mooi in categorieën gaan stoppen. De beste Nederlandse digitale designers bij elkaar. A Basic Look at Typography in Web Design. Typography is an integral part of design.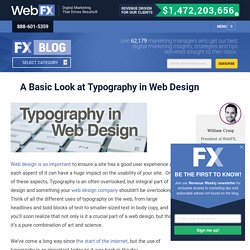 Think of all the different uses of typography on the web, from large headlines and bold blocks of text to smaller-sized text in body copy, and you'll soon realize that not only is it a crucial part of a web design, but that it's a pure combination of art and science. We've come a long way since the start of the internet, but the use of typography is as important today as it was back in the day. Typography Basics Typography is the use of type in a design. Typographic Design Patterns and Best Practices - Smashing Magazine. Advertisement Even with a relatively limited set of options in CSS, typography can vary tremendously using pure CSS syntax.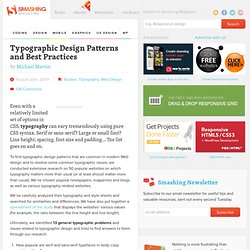 Serif or sans-serif? Large or small font? Line height, spacing, font size and padding… The list goes on and on. About 陳 Jon Tan. There is one 陳 Tan here (me) and I like to eat tangerines.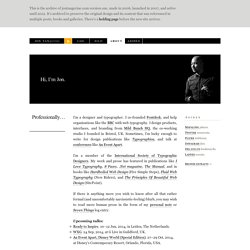 When first thinking about life-long domains this one made me smile. Soon after, a respected colleague remembered it long enough to add me to his IM, after accidentally refusing my request. Thus jon tangerine dot com. Fresh tangerines may be available soon, but until then this is merely a personal log, knowledge silo and sandbox. Dcarter design - free website templates, free css templates. All of these web design templates are released as 'open source' designs which means that you are FREE to download and use them for anything you want (including modifying and amending them).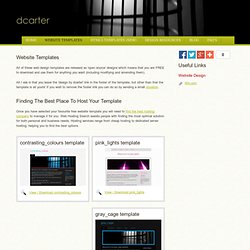 All I ask is that you leave the 'design by dcarter' link in the footer of the template, but other than that the template is all yours! If you wish to remove the footer link you can do so by sending a small donation. Kit MacAllister » Designer / Developer. Rosario Florio & Larissa Kasper – SI Special. △Andrea Rüeger Business Card Logo and business cards for Andrea Rüeger, CNC production.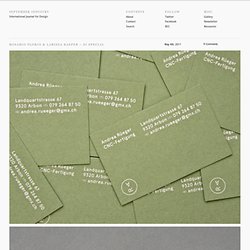 Silk screened on green paper. In collaboration with Larissa Kasper (www.larissakasper.ch). Simon Collison | Colly | The Celebrated Miscellany. Our Special Wordpress Theme | Mid Missouri Web Design | Located in Columbia, MO. Neutra: Theme for WordPress. Privacy Policies Are Required by Law.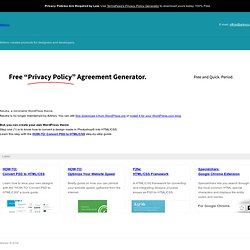 Use TermsFeed's Privacy Policy Generator to download yours today. 100% Free. Artmov E-mail: office@artmov.com Artmov creates products for designers and developers. Andrea Mignolo | Oulipo. Simple and Minimalistic Scandinavian Web Design. Scandinavian design in general is known for being simple and minimalistic, from IKEA furniture, to Bang & Olufsen TVs, to interior design. Even Scandinavian fashion design, most notably Danish, is known for its simplicity. Many of those aspects of minimalism and simplicity have been inherited by web designers based in Scandinavia, as you're about to see. 7 Key Principles That Make A Web Design Look Good - Noupe Design Blog. Oct 15 2009 By Juul Coolen Everyone and their grandfather (and dog) seems to have a website these days.
The Web is getting more crowded by the day, with literally dozens of websites being added as you read this article. It is becoming harder and harder to get noticed among the masses. "Fortunately" for us designers, not everyone seems to understand what makes or breaks a Web design. 9 Essential Principles for Good Web Design. Web design can be deceptively difficult, as it involves achieving a design that is both usable and pleasing, delivers information and builds brand, is technically sound and visually coherent. Add to this the fact that many Web designers (myself included) are self-taught, that Web design is still novel enough to be only a side subject in many design institutions, and that the medium changes as frequently as the underlying technology does.
So today I've put together my 9 principles for good Web design. 10 Principles Of Effective Web Design - Smashing Magazine. Web Design Principles. Template Showcase - Templates. Wordpress vs Joomla. Open Source CMS / Portals Scripts. 25 Beautiful Minimalistic Website Designs. How to Make a Web Site: The Complete Beginner's Guide. SeptemberIndustry - The best in international graphic design and everything in between every week.
---