Seo and analytics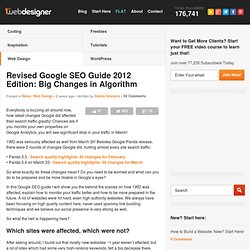 Everybody is buzzing all around now, how latest changes Google did affected their search traffic greatly! Chances are if you monitor your own properties on Google Analytics, you will see significant drop in your traffic in March!
Revised Google SEO Guide 2012 Edition: Big Changes in Algorithm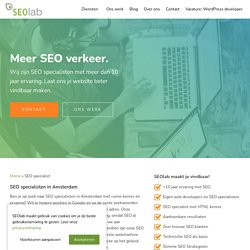 SEO tools | SEO bedrijf » Seolab
Voor een toppositie in de zoekresultaten (SERP) hebben we een lijst van gratis SEO tools samengesteld. De SEO tools op deze pagina kunnen u helpen om uw website te verbeteren en kunt u gebruiken bij zoekmachine optimalisatie.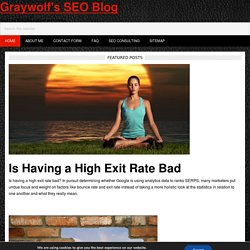 Earlier this week there was a post on SEOBullsh*t that talked about how WordPress was inadequate for anything more than a personal blog.
Is Wordpress Good or Bad for SEO
Search Engine Land's Guide To SEO
Een SEO vriendelijk CMS voor de toekomst
Internet Marketing – Ecommerce – SEO Advies | E-Tail
Het vinden, selecteren en analyseren van de juiste zoekwoorden voor je website of campagne is de eerste stap in een succesvol SEO-traject. Een analyse van zoekwoorden (ook wel zoekopdrachten, zoektermen of keywords genoemd) geven niet alleen inzicht in het zoekgedrag van je doelgroep, maar bieden ook kansen voor nieuwe content/markten. Je leert immers hoe je doelgroep zoekt, wat ze zoeken, waar en wanneer , welke koppelwoorden ze gebruiken, welke woorden dichtbij een aankoop/ conversie zijn gelegen (denk aan bestellen, kopen, contact, telefoonnummer).
SEO: het zoekwoordanalyseproces in 5 stappen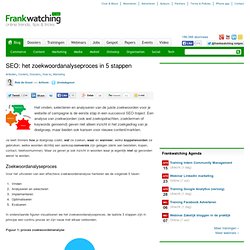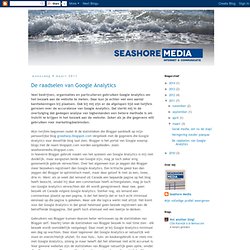 De raadselen van Google Analytics
Veel bedrijven, organisaties en particulieren gebruiken Google Analytics om het bezoek aan de website te meten. Daar kun je echter wel een aantal kanttekeningen bij plaatsen.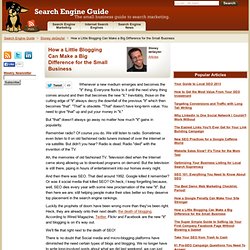 How a Little Blogging Can Make a Big Difference for the Small Business
Whenever a new medium emerges and becomes the "it" thing. Everyone flocks to it until the next shiny thing comes around and then that becomes the new "it." Inevitably, those on the cutting edge of "it" always decry the downfall of the previous "it" which then becomes "that". "That" is obsolete.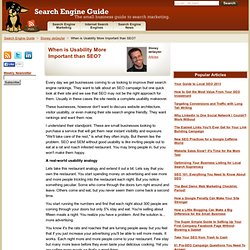 Every day we get businesses coming to us looking to improve their search engine rankings. They want to talk about an SEO campaign but one quick look at their site and we see that SEO may not be the right approach for them. Usually in these cases the site needs a complete usability makeover. These businesses, however don't want to discuss website architecture, visitor usability, or even making their site search engine friendly. They want rankings and want them now. I understand their standpoint.
When is Usability More Important than SEO?
» 25 Ways To Improve Your Site Today » fadtastic - a multi-author web design trends journal
SEO with Usability: What People Want
SEO, Usability & 15 Stupid Things You Can Do to Your Website – SMX West
Google Rolling Out Its Anti-Farm Search Improvements Globally
webteksten | Goede Zaken
Archive for the 'webteksten' Category Webteksten en andere zaken Posted by daniel on November 11th, 2010 | No Comments » De afgelopen weken weer druk bezig geweest met o.a. keyword research, optimalisatie van homepages, schrijven van webteksten, analyseren en finetunen van AdWords campagnes en het schrijven van brochureteksten. Onderwerpen variërend van mode tot CAD-software tot woninginrichting tot drukwerk. Never a dull moment!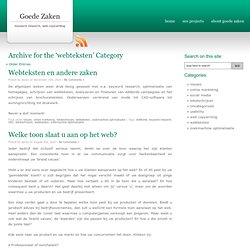 USP: de kracht van 'ste' - Traffic Builders zoekmachinemarketing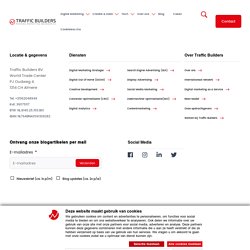 Tijd voor de USP-test! Ik stel een vraag en jij bedenkt binnen 10 seconden een antwoord. Klaar? De vraag luidt: wat onderscheidt jou van jouw concurrenten? Jouw tijd gaat nú in! 10… 9… 8… 7… 6… 5… 4… 3… 2… 1… en?
Online Conversie | Goede Zaken