Gezondheid
Some side effects of magnesium oxide may not be reported. Always consult your doctor or healthcare specialist for medical advice. You may also report side effects to the FDA. For the Consumer Applies to magnesium oxide: capsules, tablets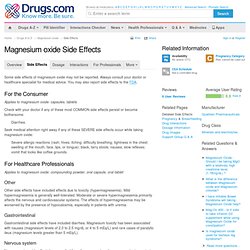 Magnesium Side Effects | Drugs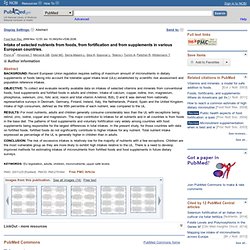 Intake of selected nutrients from foods, from ... [Food Nutr Res. 2009
Recent European Union regulation requires setting of maximum amount of micronutrients in dietary supplements or foods taking into account the tolerable upper intake level (ULs) established by scientific risk assessment and population reference intakes. To collect and evaluate recently available data on intakes of selected vitamins and minerals from conventional foods, food supplements and fortified foods in adults and children. Intake of calcium, copper, iodine, iron, magnesium, phosphorus, selenium, zinc, folic acid, niacin and total vitamin A/retinol, B(6), D and E was derived from nationally representative surveys in Denmark, Germany, Finland, Ireland, Italy, the Netherlands, Poland, Spain and the United Kingdom. Intake of high consumers, defined as the 95th percentile of each nutrient, was compared to the UL. For most nutrients, adults and children generally consume considerably less than the UL with exceptions being retinol, zinc, iodine, copper and magnesium.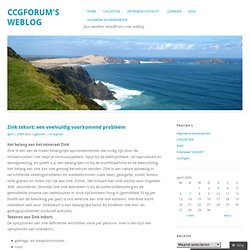 Zink tekort: een veelvuldig voorkomend probleem « Ccgforum's Weblog
Het belang van het mineraal Zink: Zink is een van de meest belangrijke sporenelementen die nodig zijn door de lichaamscellen. Het helpt je immuunsysteem, helpt bij de eiwitsynthese, cel-reproductie en wondgenezing, en speelt o.a. een belangrijke rol bij de vruchtbaarheid en de bevruchting. Het belang van zink kan niet genoeg benadrukt worden.
Use of vitamin D in clinical practice. [Altern Med Rev. 2008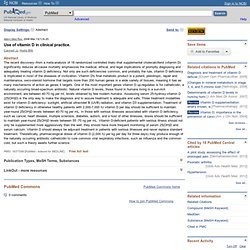 The recent discovery--from a meta-analysis of 18 randomized controlled trials--that supplemental cholecalciferol (vitamin D) significantly reduces all-cause mortality emphasizes the medical, ethical, and legal implications of promptly diagnosing and adequately treating vitamin D deficiency. Not only are such deficiencies common, and probably the rule, vitamin D deficiency is implicated in most of the diseases of civilization. Vitamin D's final metabolic product is a potent, pleiotropic, repair and maintenance, seco-steroid hormone that targets more than 200 human genes in a wide variety of tissues, meaning it has as many mechanisms of action as genes it targets. One of the most important genes vitamin D up-regulates is for cathelicidin, a naturally occurring broad-spectrum antibiotic. Natural vitamin D levels, those found in humans living in a sun-rich environment, are between 40-70 ng per ml, levels obtained by few modern humans.
Verzend bericht
Absorption
Regio-overzichten uniforme referentiewaarden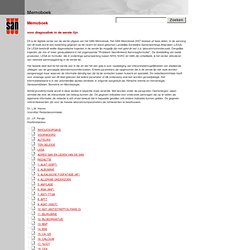 voor diagnostiek in de eerste lijn Dit is de digitale versie van de vierde uitgave van het SAN Memoboek. Het SAN Memoboek 2007 bestaat uit twee delen. In de aanvang van dit boek wordt een toelichting gegeven op de recent tot stand gekomen Landelijke Eerstelijns Samenwerkings Afspraken (LESA). De LESA beschrijft welke diagnostische trajecten in de eerste lijn mogelijk zijn met gebruik van o.a. laboratoriumonderzoek. Dergelijke trajecten zijn min of meer gevisualiseerd in het zogenaamde "Probleem Georiënteerd Aanvraagformulier".
De San - Memoboek 2007
www.zielenknijper.nl/wp-content/uploads/2009/02/verslag-congres-integrale-psychiatrie.pdf
www.voorlichtingmvo.nl/upload/File/GRvitD2000.pdf
www.ortho.nl/bestanden/artikelen/ortho096congresvoedingpsyche.pdf
publicaties/artikelen/files/Oerdieet artikel Quest.pdf
www.foodvalley.nl/Documenten/Vet in de bakkerij 2010-03-04/Frits Muskiet.pdf
www.oerdis.nl/fileadmin/bestanden/plus_magazine_sept.09_oerdis%5B1%5D.pdf
www.voeding-visie.nl/archief/edi024/artikel/pdf/Bestrijd welvaartziektes met oervoeding.pdf
Homo Energeticus - Home
Boeken
Dr. Krupka's Blog
I wanted to pass this along from the Organic Consumer's Association today…for those of you in Texas…let's hear from you! -Patrick Krupka, DC Please call to support the latest local foods bill (SB 81) in Texas! The local foods bills (HB 2084 and HB 3387) died in the legislative process, but important portions of these bills have now been amended onto a general food safety bill, SB 81. The amended version of SB 81 will now go back to the Senate. The Senators can either concur in the amendments or the bill will have to go to conference committee where the differences in the two versions will be negotiated.