Architecture
§. 5 Coolest Forts for Design-Minded Grown-ups. Remember when you were a kid, and whenever you wanted to get away from it all you could just build yourself a nice little couch-cushion-bedspread fort and nestle on in?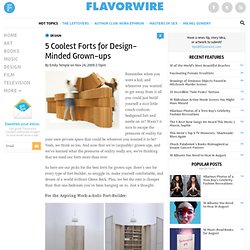 Wasn't it nice to escape the pressures of reality for your own private space that could be whatever you wanted it to be? Yeah, we think so too. And now that we're (arguably) grown-ups, and we've learned what the pressures of reality really are, we're thinking that we need our forts more than ever. So here are our picks for the best forts for grown-ups: there's one for every type of fort-builder, so snuggle in, make yourself comfortable, and dream of a world without Glenn Beck. Plus, we bet the rent is cheaper than that one-bedroom you've been hanging on to. p1070774r800te.jpg (JPEG Image, 800x600 pixels) - Scaled (92%) §. 50 Most Strange and Unusual Buildings arround the World.
The world is full of beautiful strange and fantastic buildings that are the examples of amazing architecture.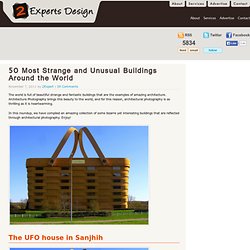 Architecture Photography brings this beauty to the world, and for this reason, architectural photography is as thrilling as it is heartwarming. In this roundup, we have compiled an amazing collection of some bizarre yet interesting buildings that are reflected through architectural photography. Enjoy! §.
---