Beauty
DIY - MAKE YOUR OWN WAX FOR HAIR REMOVAL | Fashion. I was chatting with someone on my flight back from my vacation.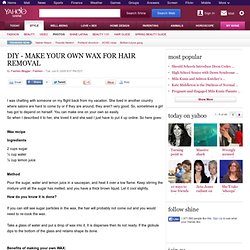 She lived in another country where salons are hard to come by or if they are around, they aren't very good. So, sometimes a girl has got to depend on herself. 100 Amazing Hairstyles. We women adore fashion and style.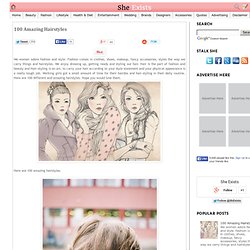 Fashion comes in clothes, shoes, makeup, fancy accessories, styles the way we carry things and hairstyles. We enjoy dressing up, getting ready and styling our hair. Colored chalk tips. Today I'm excited to share another hair tutorial!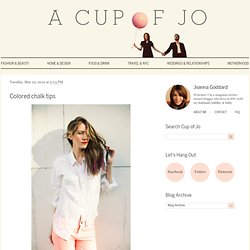 My genius friend Caroline used chalk (yes, plain old chalk) to color the ends of her hair like a rainbow, and you could also do ombre or just your favorite color. Don't you love this sexy rocker look? Here's how to do it... Here are Caroline's steps, and the wonderful Jamie Beck took photos: Photo 15- You Totally Got This: 4 Easy Braids For Rookies. Feb 24, 2014 Even if you've landed your dream job and work in the coolest office ever, it's easy to fall into the business-as-usual rut when it comes to your beauty routine.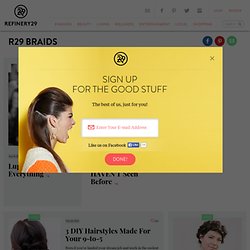 There isn't anything wrong with alternating…read Feb 18, 2014. Style Scrapbook: DIY "OMBRE DENIM SHIRT". December 29, 2011 in Uncategorized by Andy I FINALLY got around to do this DIY but since I didn't want to ruin one of my favorite denim shirts, I went and bought a cheap one at a small store and luckily, the operation was successful!.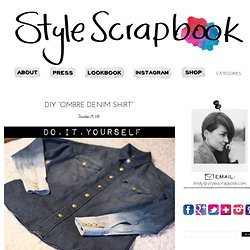 …This DIY is as simple as they come so if you are feeling adventurous, here is what you need and the step by step: *Special fabric bleach in powder (if you can't find it, use normal bleach) 11 Easy DIY Beauty Recipes for Summer. Photo: iStockPhoto.com Summer is officially in full swing and with it comes cute shorts, hot weather and hopefully some time spent at the nearest pool, beach or lake.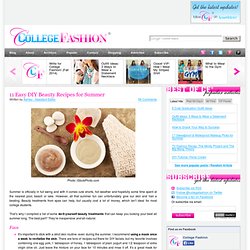 However, all that summer fun can unfortunately give our skin and hair a beating. Dorm Room Spa: 3 Easy DIY Beauty Recipes to Try. Photo Credit It's that taxing in-between time of the semester again – spring break is over, papers and projects are coming due, and finals are looming ahead.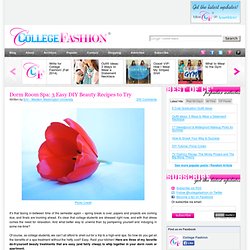 It's clear that college students are stressed right now, and with that stress comes the need for relaxation. Seated Bicycle Twist - Abs Workout: 5-Minutes to a Flat Stomach - Shape Magazine - Page 2. How to do it: Sit with knees bent and lifted into your chest (you should be balancing on your seat).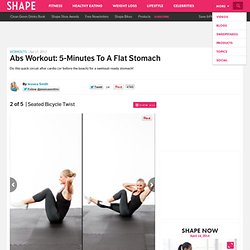 Clasp your hands behind your head. Leaning back slightly with your torso, extend your right leg out straight and turn your right shoulder towards your left knee, keeping your elbows out to the sides as you twist. Lots of lace. My new no pattern required top! A tutorial. Ok, so I finally have the pics to prove that I have been doing some sewing!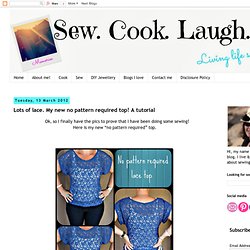 Here is my new "no pattern required" top. It really is so quick & easy to make a top like this. I didn't even need to use the overlocker! How to Make Your Own Beauty Products from Scratch - Lifestyle. Let's keep things simple this week.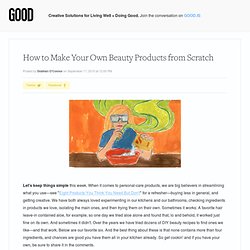 When it comes to personal-care products, we are big believers in streamlining what you use—see "Eight Products You Think You Need But Don't" for a refresher—buying less in general, and getting creative. We have both always loved experimenting in our kitchens and our bathrooms, checking ingredients in products we love, isolating the main ones, and then trying them on their own. Sometimes it works: A favorite hair leave-in contained aloe, for example, so one day we tried aloe alone and found that, lo and behold, it worked just fine on its own.
And sometimes it didn't. Over the years we have tried dozens of DIY beauty recipes to find ones we like—and that work. Styling Tip - Bandanas - asuyeta [ah-soo-yeh-tah] clothes & accessories. handmade with love. Bandanas are not only for Bret Michaels, you can wear them too. And I promise that they will always look amazing! Here are 5 fun and easy hairstyling tutorials that can be done with a bandana or light scarf. And if you are in need of a cute bandana, just come on over and make one with me right here! Have fun! Homemade Hair Treatments - At Home DIY Hair Treatments. Eggs, yogurt and honey are, at first glance, all components of a tasty breakfast—but they also happen to be hair treatment ingredients, and affordable, all-natural ones at that. And they're not the only ones. Did you know, for instance, that the oils in avocados more closely resemble our own skin's oils than any product in the beauty aisle does?
6 secrets I learned at makeup artist school. Total-beauty TODAY Style TODAY Jan. 12, 2012 at 9:50 AM ET Totalbeauty.com / By Sharon Yi, TotalBeauty.com. PRIM + PROPER. Photos: post designed by kristin ess Today we're introducing you to one of the easiest hair tutorials ever– the braided bun! It can be done on almost any texture or length of hair, using regular or fishtail braids! How-To: Instant Hairstyles- Do Yourself. 9 Charmingly Delightful Beauty Techniques from All Over the World …
Beauty techniques are highly beneficial, but some of them are incredibly recycled. What I mean is, in my life, I always get the same pieces of advice. My friends and family members always share the same beauty techniques – and yes, they're extremely helpful, but sometimes I'd like to hear something new, wouldn't you? In that spirit, I've gathered some amazing beauty techniques from all over the world! If you've ever wanted to know how women from India keep their hair so lustrous or how Scandinavian women keep their complexions so flawless, I've got you covered!