Indie Games
The Word of Notch. Let's say you're Neo, and you were the first person ever to come up with the idea of a novel.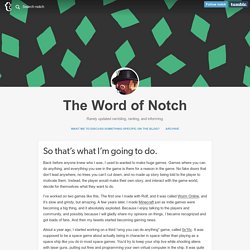 It's like a short story, but longer, and you're really proud of it. Trinity then runs up to you and takes one of the few printed copies of your novel. You don't want her to do that, as you paid good money to have it printed, and was hoping to get that money back, so you taze her. Trinity tried to commit theft. Newgrounds.com — Everything, By Everyone. The Weblog. Game Side Story. Oxeye Game Studio. Welcome to indiePub Games. Rockin' Indie Games one pixel at a time.
Andrew Morrish. Indie games - foxylounge. Locomalito.
---