Garbage Collector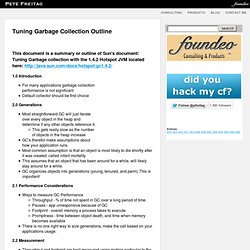 Performance Tuning Garbage Collection in Java
This document is a summary or outline of Sun's document: Tuning Garbage collection with the 1.4.2 Hotspot JVM located here: http://java.sun.com/docs/hotspot/gc1.4.2/
Garbage Collection: ConcMarkSweep vs. RMI | Webapper Blog
Abstract Use of the ConcMarkSweep garbage collector for the "tenured" generation is undesirable when RMI (Remote Method Invocation) garbage collection is occurring. Introduction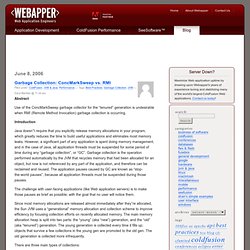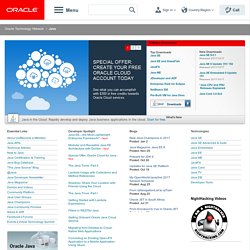 Oracle Oracle Oracle Technology Network > Java Interview OTN Interview with Mark Reinhold
This document describes the behavior of the Java( tm) HotSpot( tm) virtual machine. This behavior is not part of the VM specification, however, and is subject to change in future releases. Moreover the behavior described here is generic behavior and will not apply to the execution of all Java applications. How is the generational collector implemented in HotSpot(tm)?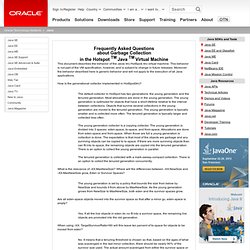 Garbage Collection - Frequently Asked Questions
Introduction The Java TM 2 Platform Standard Edition (J2SE TM platform) is used for a wide variety of applications from small applets on desktops to web services on large servers. In the J2SE platform version 1.4.2 there were four garbage collectors from which to choose but without an explicit choice by the user the serial garbage collector was always chosen.