Art-Sciences
Browsing deviantART
Arts & Science of Charlotte
Méridien - Science | Arts | Société • News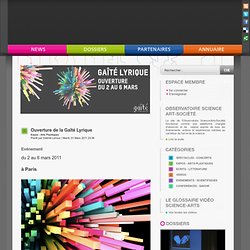 A la suite du texte de Frank Madlener, Pour un Manifeste du prototype, nous avons décidé de demander à d'autres acteurs et penseurs du monde de l'art d'intervenir au travers de textes manifestes et fondateurs, pour susciter des réflexions et des débats sur le renouvellement des expressions et expériences artistiques, mais aussi des structures de création, dans la cas de démarches qui se situent à la frontière de l'art et de la science, de la recherche et de la création.
Futuristic cities have always fascinated me, as a fan of SciFi TV shows, movies, and digital art, futuristic city designs always bring me inspiration. Everyone can find quite a lot of stunning illustrations on sites like deviantArt. Many artists have become so skilled at Photoshop and 3D software that they create almost photographic illustrations of whole cities with incredible detail and precision. I have been inspired by these illustrations and it makes me work harder at everything I do; I hope you will feel the same. If you find other amazing art, please send it to us, we will use them in our upcoming articles. Metropolis 2106 by thmc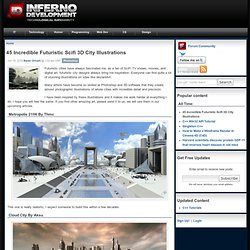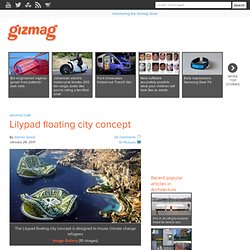 The Lilypad floating city concept is designed to house climate change refugees Image Gallery (10 images) With global sea levels predicted to rise significantly over the next century due to climate change, a lot of people living in low lying areas are expected to be displaced from their homes. Architect Vincent Callebaut has come up with a possible relocation destination for these climate change refugees in the form of the "Lilypad" concept – a completely self-sufficient floating city that would accommodate up to 50,000. View all With a shape inspired by the highly ribbed leaf of Victoria water lilies, the double skin of the floating "ecopolis" would be made of polyester fibers covered by a layer of titanium dioxide (TiO2), which would react with ultraviolet rays and absorb atmospheric pollution via a photocatalytic effect in the same way as the air-purifying concrete and paving stones we looked at last year.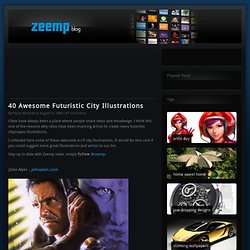 Cities have always been a place where people share ideas and knowledge. I think this one of the reasons why cities have been inspiring artists to create many futuristic cityscapes illustrations. I collected here some of these awesome sci-fi city illustrations.