Textures
Tuesday Total Textures 48
Textures - COLORFUL textures pack - GraphicRiver
Repeating patterns are a great resource to add detail and texture to any website or interface design. Download this free pack of 12 pixel based patterns, including diagonal lines, dots and tessellating shapes for use in your future design projects. All the patterns are contained within a Photoshop .pat file.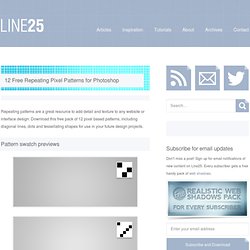 12 Free Repeating Pixel Patterns for Photoshop
Holy Grail: 400+ of Outstanding Textures For Vintage Style Designs
In Older days designers had to buy many expensive cd's for hi res textures. But nowadays textures are the best free stuff available on the web for designers. But to find a high res texture of different type is very difficult task.
20+ Free & Hi Res Textures | Free Resources for Designers & Developers