Food
Make It: Vegan Brownies For a Healthier Treat!
Matur er góður. Góður matur er guðdómlegur. Fjölskyldunni minni þykir matur góður og okkur þykir skemmtilegt að snæða saman.
Um höfundinn: Elín Helga Egilsdóttir - ellahelga.blog.is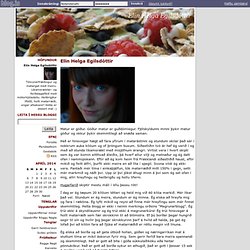 aka the best enchiladas ever! Thank you so much to Laura, at Tide and Thyme , for introducing me to this recipe. Seriously - they were so so good I can't even tell you. So good in fact, that the leftovers are really calling my name, and I'm trying so hard to resist....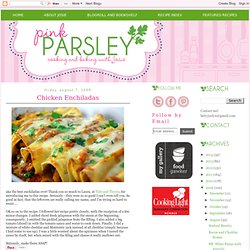 Healthy is Sexy : Rockstar Chats
Bev Cooks | Creative Cooking With A Foodie Flair
LEAN & CRISPY ROASTED CHICKEN
Welcome to YouTube! The location filter shows you popular videos from the selected country or region on lists like Most Viewed and in search results.To change your location filter, please use the links in the footer at the bottom of the page. Click "OK" to accept this setting, or click "Cancel" to set your location filter to "Worldwide". The location filter shows you popular videos from the selected country or region on lists like Most Viewed and in search results.
yourguidetodetox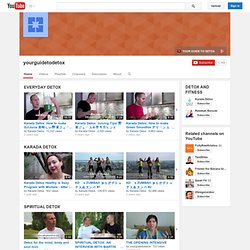 Recipes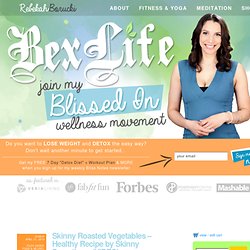 Blog » BexLife
If it wasn't for my lovely and always-motivated husband, Justin , I probably would have spent the remainder of my weekend locked up indoors, fully immersed in my girl movies, lying on the couch, doing absolutely nothing productive. Pride & Prejudice , Fried Green Tomatoes , Eat, Pray, Love , Beaches … finally, he had enough. "What is with you women and your depressing movies?!" "It's what we do!!" I've been having a extremely rough few weeks.
Photo: Foodcollection / Getty Images Make sure to use real maple syrup -- not maple-flavored syrup, to get the best results! SERVINGS Makes around 16 bars INGREDIENTS 3/4 cup old-fashioned rolled oats (not instant) 1/2 cup chopped walnuts 1/4 cup unsalted sunflower seeds 1/2 cup all-purpose flour 1/2 teaspoon baking powder 1/4 teaspoon salt 1/2 teaspoon ground cinnamon Pinch of nutmeg 1/2 cup canola oil 1/4 cup firmly packed light brown sugar 1/4 cup pure maple syrup 1 large egg 1 teaspoon pure vanilla extract 1/2 cup dried blueberries PREPARATION 1. Preheat the oven to 350 degrees F.
Blueberry and Maple Granola Bar Recipe - Homemade Granola Bars
Food - Macaroon recipes
Lick The Bowl Good
Okay winter is officially moving in! Today on my way to school I couldn't even see the city it had such a thick blanket of fog laying over it! When I got out of my afternoon class the mountains were finally peeking through, blanketed in a fresh coating of snow! While beautiful, it reminds me of how wet and cold I will get again this winter digging my SUV out each day for the next few months!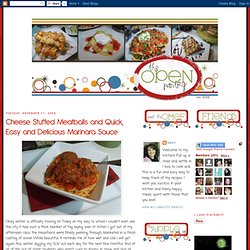 Cheese Stuffed Meatballs and Quick, Easy and Delicious Marinara Sauce
A guacamole grilled cheese sandwich has been on my to try list for a while now and since I was making the bacon guacamole on the weekend I figured I would just pick up double the ingredients and make both. The basic idea behind this grilled cheese is quite simple and it started out with just adding guacamole to a grilled cheese but with the success of combining salty bacon-y magnificence with cool and creamy guacamole I could not resist adding a few slices of bacon to the sandwich. I also had some leftover corn tortilla chips from dipping on the weekend so I decided to crumble a few of them and add them to the sandwich for texture. Like all grilled cheese sandwiches this one is pretty easy to make though you want to try to remember to pull the guacamole out of the fridge early so that it can come up to room temperature before adding it to the sandwich.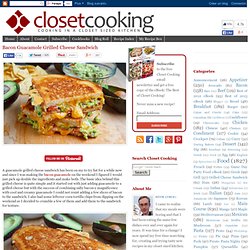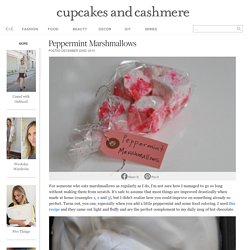 December 22nd, 2010 For someone who eats marshmallows as regularly as I do, I'm not sure how I managed to go so long without making them from scratch. It's safe to assume that most things are improved drastically when made at home (examples 1 , 2 and 3 ), but I didn't realize how you could improve on something already so perfect.
DansGuardian - Access Denied
As it turns out, the last days of October don't awaken in me a desire to fly around on my broom, don a "sexy" nurse/maid/fireman outfit or even gorge myself on candy. Nope, according to a quick glance at my archives, apparently when Halloween approaches all I can think about is reinterpreting Rice Krispie Treats. Unfortunately, I don't seem to choose my recipes very well. Last year's Peanut Butter Crispy Bars were delicious, but had structural issues that irked me.
salted brown butter crispy treats