Drug Websites
We help spread accurate information about magic mushrooms so people can make informed decisions about what they put in their bodies. You can learn about the effects of shrooms and read trip reports, find out how to grow mushrooms and get mushroom recipes, browse through the gallery and hang out on our message board, or check out the site map for everything the Shroomery has to offer. You are invited to contact us with any comments, suggestions or criticism. The Shroomery is constantly under construction and we rely on your input in order to continue to improve it. Most importantly, enjoy the site!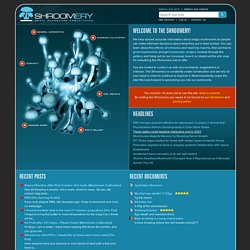 February 6, 2014 11:35 PM By Robert Zullo / Pittsburgh Post-Gazette The war on drugs, Jack Cole said, has been "far worse" than a failure. Speaking to about 75 students Thursday afternoon at Slippery Rock University, Mr. Cole, a retired New Jersey State Police narcotics detective and a co-founder of Law Enforcement Against Prohibition, called it "a self-perpetuating and constantly expanding policy disaster."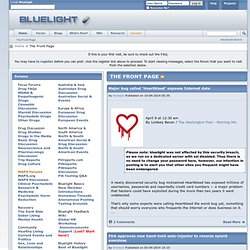 About Tests and Data: Overview EcstasyData.org is an independent laboratory pill testing program run by Erowid Center, and co-sponsored by Dancesafe and Isomer Design. Launched in July 2001, its purpose is to collect, review, manage, and publish laboratory pill testing results from a variety of organizations. News Feb 7, 2014: Government of Wales Sponsors Free Street Drug Analysis! Feb 1, 2014: One free test per month for samples chosen by administrators at Pill Reports.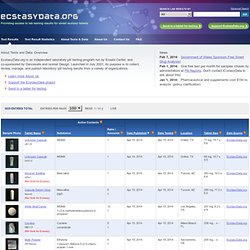 Esctasydata.org