reclists&sites
Get flash to fully experience Pearltrees
camille reads: Slash... deal with it (more Harry/Draco fanfiction recs)
I don't care if you judge me... Harry and Draco belong together .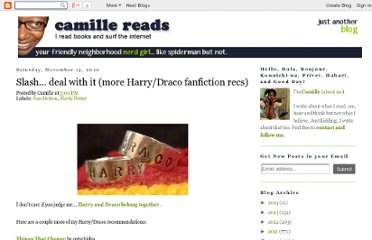 When he finds himself in need of a very difficult potion, Harry goes to Snape for help. Rather to his surprise, Snape agrees. Mentions of past non-con, but nothing graphic.
Harry Potter » Templum Bellonae
harry/draco - moonshot
Faith Wood
foryourpleasure | Harry / Draco as Werewolf Listing
Cougar, yup. - Fic for Speed Pr0nz
A hard man is good to find. - *Fic Rec* The Price of Valor by weasleywench
Originally posted July 2008 - I've been following this story since it began, and now that it's almost over, I feel the need to rec it. It's by one of my good friends, miss
This is a listing of all the stories I have found where Harry and/or Draco have very unusual jobs/careers with comments and recommendations when applicable. I will indicate when a story is a WIP or appears to have been abandoned. # = recommended. The stories are listed alphabetically.
foryourpleasure | Harry/Draco in unusual careers listing
A Consort's Loyalty - by desolate3
Multifandom Slash Rec List: fandom: harry potter
Come Share the Magic
2012 FICS AND ART - Harry/Draco Smoochfest 2012
The Big Harry/Draco Career Fair - FIC: The List
Hero Worship : by ravenna_c_tan What if Snape did not escape at the end of Half-Blood Prince? What if Kingsley Shacklebolt caught him before he could Apparate away?
Harry Potter Fic Recs: Date Sort
Harry/Draco fanfiction rec journal - Post DH
Post DH Epilogue, What Epilogue?
Fanfiction « Adsulto Cordis
draco/harry
Some of my Favorite Harry Potter Slash Fics Last updated recs August 3, 2009 updated links October 2010 A bit of an introduction: I love to read slashfic almost as much as I love to write it.
My Favorite HP Slashfics
unnamed pearl
Hogwarts 8th Year - List
Below are my recs of HP fics that I have read. Yes, I'm H/D biased. I love it!
Hidders' Harry Potter Fanfic Recs
Title : Sweatin to the Voldies Author : dark_branwen Rating : NC-17 Word Count : 24,500 Warnings : rimming, EWE Summary : The-Boy-Who-Lived has become The-Boy-Who-Ate, and his girlfriend just can't take it anymore.
HarryDraco Storyroom - Sweatin' to the Voldies
HP Fandom :: Where your Harry Potter Fan Fiction needs are met
Title: S.W.A.G. (Or How Harry and Draco Discover That Their Children Are Okay With the Idea of Their Co-population) Author:
bottom_draco: Last Week
Discover Yourself!
Memorable harry/draco Entries
A top!Draco/bottom!Harry Community
drew In the Dark for [PG] drew Deep Dungeon Dalliance for [NC-17] drew Sparring Practice for [G] drew Dancing Patronus for [PG] drew Put Me Back Down! (Or Maybe Not...) for [R]
hd_smoochfest: REVEALS!!!!
Harry/Draco Fanfiction by leo_draconis
HP/DM Fic Recs
hd_inspired
Here it is, the list you've been looking forward to...the MASTERLIST!
harry_submits: Masterlist
Big Bang, Baby! - Re:Classics of Harry/Draco fandom: the amazing, all-you-can-read fic recs thread! - Big Bang, Baby!
I couldn't help myself! This may be the only public post I'll make in this forum, but by golly, I'ma gonna make it count! Here we go!
QuantumReality's recs: Harry/Draco
Stories :.
Stories for D/H
thejupiterboy - a harry/draco reclist
Themed list: Mediwizardry : painless_j
Harry/Draco Goodie Bag
après l'école :: Post-Hogwarts Harry/Draco Fan Fiction: A Comprehensive List
après l\'école
après l'école :: Post-Hogwarts Harry/Draco Fan Fiction: A Comprehensive List
karala: 8th Year Harry/Draco Fanfiction
"You don't know what I'm capable of, you don't know what I've done!"
Fics recced so far…
Meretricula's Journal
drarry_lovers
You Never Thought It Would End Like This
Sulky Rhino - Poll: Harry/Draco Fandom Classics
abbycadabra: H/D New Classics: Poll Results
Themed list: disability : painless_j
Anorexia, Bulimia, Obesity (and any other eating issues)
The Silver Snitch I :: All slash, all the time
Harry Potter Kinkfest
H/D Holidays
Harry/Draco Fandom Charitable Gathering Place
Enduring Devotion: Arctic Emerald (Harry/Draco)
Potter Slash Archive ::
COMPLEX LOVE   •   Harry/Draco Slash Fanfiction Fanlisting
gossymer: The Directory of Harry/Draco Rec Lists
gossymer: HD holidays - summer 07 - compilation rec list