Misc. compilations
50 After-School Snacks : Recipes and Cooking. 1.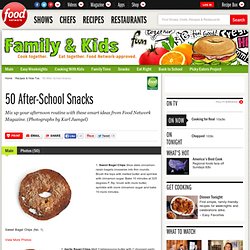 Sweet Bagel Chips Slice stale cinnamon-raisin bagels crosswise into thin rounds. Brush the tops with melted butter and sprinkle with cinnamon sugar. Bake 10 minutes at 325 degrees F; flip, brush with more butter, sprinkle with more cinnamon sugar and bake 10 more minutes. 100 Delicious, Dirt-Cheap Recipes for the Starving Student. Most students don't have a lot of cash to spend on food, but that doesn't mean you have to go hungry.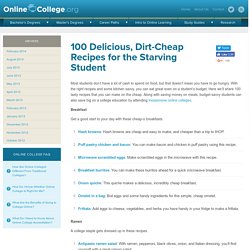 With the right recipes and some kitchen savvy, you can eat great even on a student's budget. Here we'll share 100 tasty recipes that you can make on the cheap. Along with saving money on meals, budget-savvy students can also save big on a college education by attending inexpensive online colleges. Breakfast Get a good start to your day with these cheap-o breakfasts. Ramen Hacks: 30+ Easy Ways to Upgrade Your Instant Noodles. SLIDESHOW: Ramen Hacks: 30+ Easy Ways to Upgrade Your Instant Noodles [Photographs: J.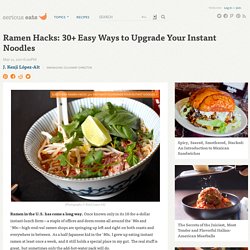 Kenji Lopez-Alt] Ramen in the U.S. has come a long way. 14 Easy Meals Ever Guy Should Know How to Make. I never understood why more guys don't cook.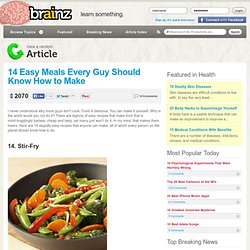 Food is delicious. You can make it yourself. Why in the world would you not do it? There are legions of easy recipes that make food that is mind-bogglingly badass, cheap and tasty, yet many just won't do it. 100 Famous Restaurant Recipes You Can Replicate at Home | Eating out is becoming a more and more popular phenomenon.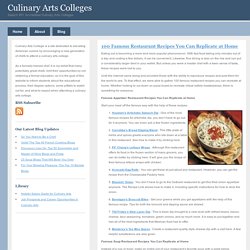 With fast food taking only minutes out of a day and costing a few dollars, it can be convenient. Likewise, fine dining is also on the rise and can put a considerably larger dent in your wallet. But unless you were a master chef with a keen sense of taste, these recipes were lost to you. Sweet Home Supper : Barefoot Contessa.
---