Chicken
Cheesy Chicken, Bacon and Avocado Quesadillas. What is it about bacon & avocado that I absolutely love??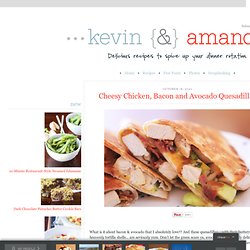 And these quesadillas… with their buttery, crispy, heavenly tortilla shells… are seriously yum. Don't let the green scare ya, avocados have a really delicious taste. I promise they're not just thrown in to "healthify" this recipe! Healthy Baked Chicken Nuggets. Chunks of all white meat chicken breasts coated in breadcrumbs and parmesan cheese then baked until golden.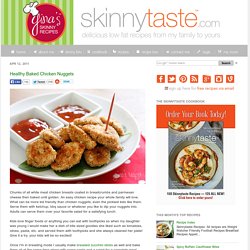 An easy chicken recipe your whole family will love. What can be more kid friendly than chicken nuggets, even the pickiest kids like them. Serve them with ketchup, bbq sauce or whatever you like to dip your nuggets into. Chicken Nuggets. Homemade Chicken Nuggets. These homemade chicken nuggets had the right texture, flavor and consistency of a standard McDonald's Chicken McNugget.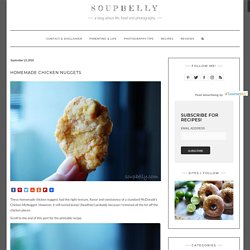 However, it still tasted leaner (healthier) probably because I trimmed all the fat off the chicken pieces. I used a mixture of chicken breast meat and thigh meat, hoping the thigh meat would add some extra richness, flavor and moistness after frying. Homemade chicken nuggets… « Sammyw. It's so easy to make your own chicken nuggets, not to mention healthier than the frozen kind you get at the grocery store!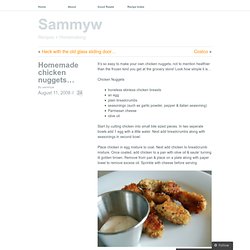 Look how simple it is… Chicken Nuggets boneless skinless chicken breastsan eggplain breadcrumbsseasonings (such as garlic powder, pepper & italian seasoning)Parmesan cheeseolive oil Start by cutting chicken into small bite sized pieces. P.F. Chang's Chicken in Soothing Lettuce Wraps. Instructions Cover mushrooms with boiling water, let stand 30 minutes then drain.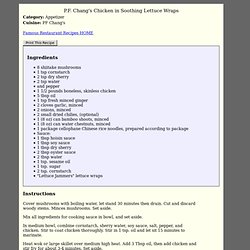 Cut and discardwoody stems. PF Changs Lettuce Wraps Recipe. Hey there, darlin!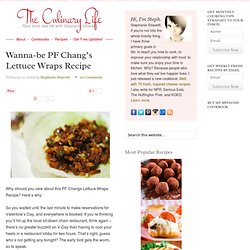 I see you're new here. Check out my monthly newsletter, where I send out free recipes and giveaway lots of cookbooks and fun kitchen gadgets. I've also got a new book out, which I wrote to celebrate my favorite things ever: pasta and CHEESE. KFC Chicken Recipe Kentucky Fried Chicken Recipes. Colonel Sanders' KFC Recipe Revealed! « How-To News. Ron Douglas of Long Island, New York, claims to have reverse-engineered Kentucky Fried Chicken's top secret 11 herbs and spices.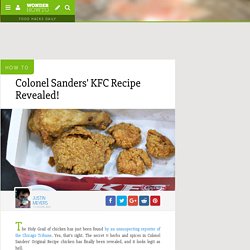 The key ingredient? Accent, a commercial MSG-based flavoring. The Guardian's Tim Hayward decided to put Douglas' recipe to the test: "Cooking from scratch enables us to do two things that the Colonel can't: use great chicken and drain the grease more efficiently. This gave us a real head start, and the results were stunning. Honey Lime Chicken (inspired by Sunset Magazine) Leave it to Sunset Magazine to come up with a variety of delicious marinades to suit any purpose and serve them up in one cool issue (August 2010).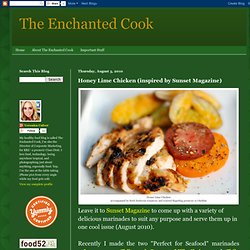 Recently I made the two "Perfect for Seafood" marinades - Lemongrass, Chile and Coconut Milk Shrimp and Chile Ginger Shrimp. Both were fantastic, so this time I decided to try the honey lime marinade from the "Perfect for Chicken" section and I was very pleased with the outcome.It doesn't get any easier than this - 5 simple ingredients (not including the salt and pepper), marinade overnight, and throw on the grill. Then sit back and enjoy the lime-infused, honey-crusted chicken. Serves 4-6. Curried Chicken Salad Recipe - Healthy.Food.com - 129270. Chicken Tikka Masala | Evil Shenanigans - Baking & Cooking Blog. I have been craving Indian food lately and it has been an excellent opportunity to try out some new recipes and dig out some old favorites.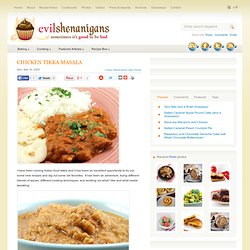 It has been an adventure, trying different blends of spices, different cooking techniques, and working out what I like and what needs tweaking. Chicken tikka masala is one of my favorite dishes to order at Indian restaurants. When I try a new place I order the chicken tikka masala and use it as my yard stick because if the chicken tikka masala is good then there is hope for the rest of the menu. The spices must be balanced with the rich cream sauce. It can't be too tangy or too taste too heavily of one spice over another.
Stove Top Bourbon Chicken Recipe - Food.com - 150102. Ultimate Comfort: Chicken Pot Pie Soup over Mashed Potatoes. October 4th, 2009 by katie Oh man, oh man, I can't wait til it gets cold at your house because you are going to love this.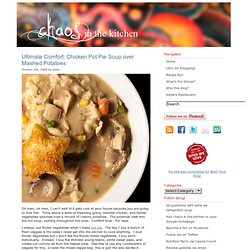 Think about a ladle of steaming gravy, roasted chicken, and tender vegetables spooned over a mound of creamy potatoes. The potatoes melt into the hot soup, swirling throughout the bowl.
---