Chicken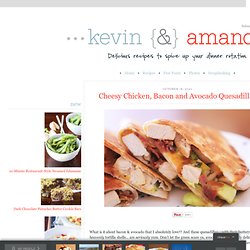 What is it about bacon & avocado that I absolutely love??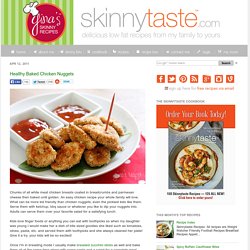 Chunks of all white meat chicken breasts coated in breadcrumbs and parmesan cheese then baked until golden.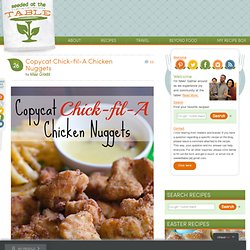 Chicken Nuggets
I'm sitting here, staring at my screen, trying to figure out how to tell you that these little bites are the closest I've come to finding a replica of Chick-fil-A's chicken nuggets. These are very close and I am extremely excited to know that leftovers are still in my freezer, ready to be enjoyed at a moment's notice. Our life is full of irony, and one of the major examples involves Chick-fil-A.
These homemade chicken nuggets had the right texture, flavor and consistency of a standard McDonald's Chicken McNugget. However, it still tasted leaner (healthier) probably because I trimmed all the fat off the chicken pieces. I used a mixture of chicken breast meat and thigh meat, hoping the thigh meat would add some extra richness, flavor and moistness after frying.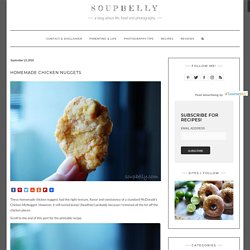 It's so easy to make your own chicken nuggets, not to mention healthier than the frozen kind you get at the grocery store!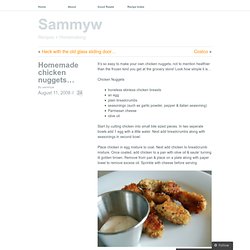 Homemade chicken nuggets… « Sammyw
Instructions Cover mushrooms with boiling water, let stand 30 minutes then drain. Cut and discardwoody stems.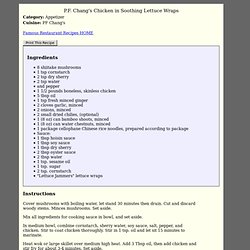 P.F. Chang's Chicken in Soothing Lettuce Wraps
Why should you care about this PF Changs Lettuce Wraps Recipe?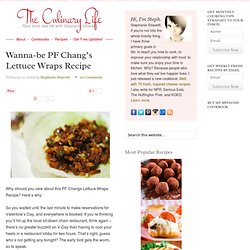 KFC Chicken Recipe Kentucky Fried Chicken Recipes
Ron Douglas of Long Island, New York, claims to have reverse-engineered Kentucky Fried Chicken's top secret 11 herbs and spices. The key ingredient?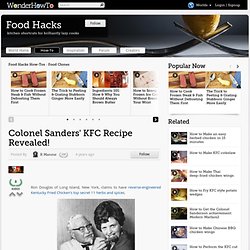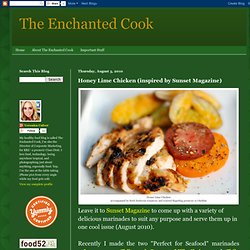 Leave it to Sunset Magazine to come up with a variety of delicious marinades to suit any purpose and serve them up in one cool issue (August 2010).
Curried Chicken Salad Recipe - Healthy.Food.com - 129270
Chicken Tikka Masala | Evil Shenanigans - Baking & Cooking Blog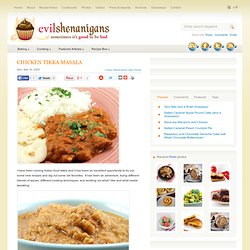 I have been craving Indian food lately and it has been an excellent opportunity to try out some new recipes and dig out some old favorites. It has been an adventure, trying different blends of spices, different cooking techniques, and working out what I like and what needs tweaking.
Stove Top Bourbon Chicken Recipe - Food.com - 150102
October 4th, 2009 by katie
Ultimate Comfort: Chicken Pot Pie Soup over Mashed Potatoes