Common core
Common Core Teamwork Culls Content. Teams of teachers and state education department staff are working together this year on pairing digital resources with Common Core State Standards, an effort to align grade-level goals and learning expectations in clear, plain language.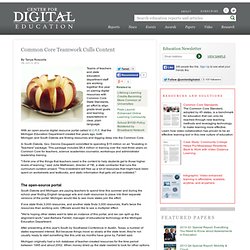 With an open-source digital resource portal called M.O.R.E. that the Michigan Education Department created five years ago, both Michigan and South Dakota are finding resources and digging deep into the Common Core. In South Dakota, Gov. Dennis Daugaard committed to spending $15 million on an "Investing in Teachers" package. This package includes $8.4 million in training over the next three years on Common Core for teachers, science academies counselor, workshops and administrator leadership training. 10 Must-See Common Core Resources. Home » Education The Common Core resource contest is coming along nicely!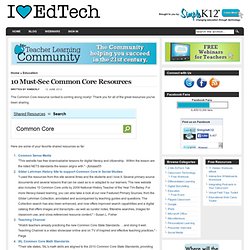 Thank you for all of the great resources you've been sharing. Here are some of your favorite shared resources so far: The Common Core Conversation - Common Core Conversation. Common Core State Standards Toolkit. Crosswalk of the Common Core Standards and the Standards for the 21st-Century Learner. Skip to main content ALA User Menu Search form A Division of the American Library Association.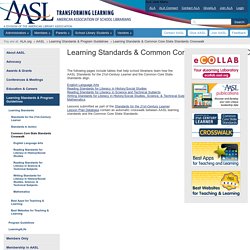 5 things you should know about Common Core standards. Common Core State Standards for School Leaders. District Administrators. To effectively implement the Common Core State Standards, district administrators must create and communicate a common vision among all stakeholders to ensure wide-spread support; develop a written plan for long-range, articulated professional development for all staff in the district; and lead efforts to identify and implement multiple and systemic transition strategies that support an effective shift from current standards and assessments to the CCSS.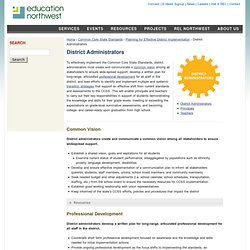 This will enable principals and teachers to carry out their key responsibilities in support of students demonstrating the knowledge and skills for their grade levels, meeting or exceeding the expectations on grade-level summative assessments, and becoming college- and career-ready upon graduation from high school. Common Vision District administrators create and communicate a common vision among all stakeholders to ensure widespread support. §. Whitswiki - Common Core State Standards Resources. MagellanTech4U - Core Essentials Online Resources. Online Resources for Common Core and North Carolina Essential StandardsNC Curriculum and Standard Course of Study Webpage merged to provide links all in one locationNC DPI Wiki Central Collection of valuable resources for NC Educators Links to North Carolina Common Core and Essential StandardsInstructional Support Tools for the NC Essential Standards Common Core Support ToolsStandards for Mathematical PracticeShifts in ELA and MathematicsLearnNC Resources linked to Common Core and Essential Standards Social Studies:DPI K-12 Social Studies Wiki Information and resourcesSocial Studies at NCWise OwlSocial Studies Learning Activity types: From College of William and Mary: 44 identified types of social studies learning activities.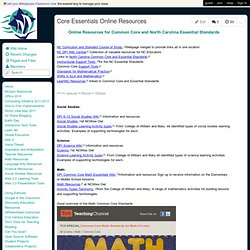 Examples of supporting technologies for each.Science:DPI Science Wiki Information and resourcesScience at NCWise OwlScience Learning Activity types: From College of William and Mary:40 identified types of science learning activities. Common Core State Standards Initiative - Curriculum and Instruction. ESE Resources for Implementing the Massachusetts Curriculum Frameworks in 2012-2013 Diving Deeper: Implementing the 2011 Massachusetts Curriculum Framework for Mathematics Diving Deeper: Implementing the 2011 Massachusetts Curriculum Framework for English Language Arts and Literacy Updated Interactive PARCC Model Content Frameworks for Mathematics Grades 3-11 (Revised Version 3.0 November 2012) and English Language Arts/Literacy (Version 2.0), Grades 3-11 Common Core State Standards Implementation Workbook National Parent-Teacher Association Guides to Student Success.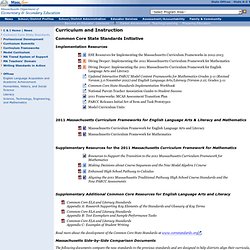 Wondering About Common Core and Complex Text? - Common Core State Standards TOOLBOX. "A lot of reading skills students can apply with a simple text, but can't do so much with a challenging text.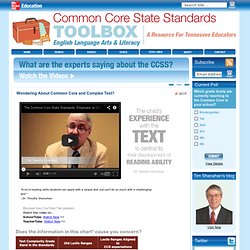 "- Dr. Timothy Shanahan Blocked from YouTube? No problem. Achievethecore.org.
College & career ready. Act and common core. Assessment. Mathematics. Literacy. Resources and Information. Spring Conference 2014 - April 4, 2014 Carol Ann Tomlinson - Differentiation and Common Core: Helping All Learners Succeed with Complex Text Presentation cover and .pdf of slides.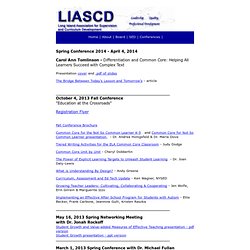 Common Core State Standards. College and Career Readiness Illinois joined more than 40 states in a collaborative effort to raise learning standards and improve college and career readiness for all students, regardless of where they live.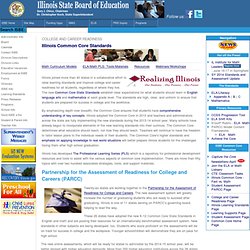 The new Common Core State Standards establish clear expectations for what students should learn in English language arts and mathematics at each grade level. The standards are high, clear, and uniform to ensure that students are prepared for success in college and the workforce. Common Core State Standards in North Carolina for Elementary ... Common Core for the Holidays. CCSS Modules. Common Core Standards. We need national standards.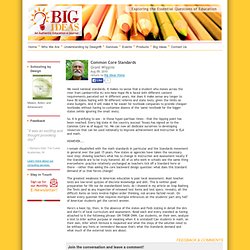 It makes no sense that a student who moves across the river from Lambertville NJ into New Hope PA is faced with different content requirements parceled out in different years. Nor does it make sense any longer to have 50 states fooling with 50 different reforms and state tests, given the limits on state budgets. And it will make it far easier for textbook companies to provide cheaper textbooks without having to customize dozens of the 'same' textbook for the bigger states (while ignoring the small ones). Year Two of Implementing the Common Core State Standards: States' Progress and Challenges, by Nancy Kober and Diane Stark Rentner at the Center on Education Policy. About the Center on Education Policy: The Center on Education Policy is a national, independent advocate for public education and for more effective public schools.
The Center helps Americans better understand the role of public education in a democracy and the need to improve the academic quality of public schools. We do not represent special interests. Instead, we try to help citizens make sense of the conflicting opinions and perceptions about public education and create the conditions that will lead to better public schools.
If you have trouble viewing documents on the Center on Education Policy web site, please: Webinars. Common Core State Standards Initiative | PTA. (select any of the links below) The Common Core State Standards (CCSSI) is a joint effort led by the National Governors Association Center for Best Practices and the Council of Chief State School Officers to develop a common core of K-12 standards in English language arts and Mathematics. Read more about National PTA's position on Education Standards. Common Core.
---