Hey_kess
hey_kess
Educator, School Improvement Specialist. Passions include technology integration, student engagement, 21st century skills...Excited to LEARN MORE!
Tools for Teachers by Subject
Atlas Curriculum Mapping :: Unit Map 2011-2012 :: Curriculum Designers Collaboration / ELA HS / High School (Sample A)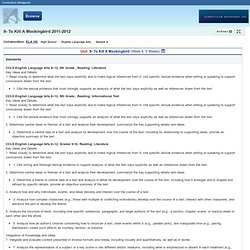 A1 Identify key historical events and the time context for the events that transpire in the novel in relationship to the southern community and larger issues in nation. A2. Research and select those elements in Harper Lee's biography that had a direct impact on the story and characters. A3. Identify and explain the use of flashback in text to engage reader. A4.
A collection of rubrics for assessing portfolios, cooperative learning, research process/ report, PowerPoint, oral presentation, web page, blog, wiki, and other social media projects. Quick Links to Rubrics Social Media Project Rubrics Wiki Rubric Criteria for assessing individual and group Wiki contributions. Blog Rubric Assess individual blog entries, including comments on peers' blogs. Twitter Rubric Assess learning during social networking instructional assignments.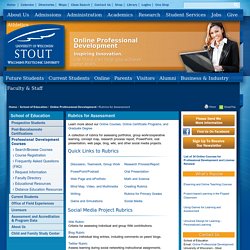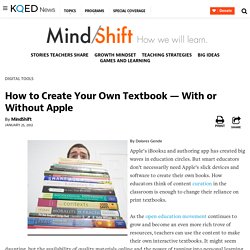 Digital Tools Flickr: Marquette La By Dolores Gende Apple's iBooks2 and authoring app has created big waves in education circles.
Publish, Convert, Store, and Download free children's ebooks online for the iPad and nook color!
For students with disabilities, some colleges and universities offer a note-taking service that includes collecting notes from the professor, a teaching assistant, or a fellow student. There are other students that might need to review classmates' notes, however. A student athlete with an injury A student that wants to improve his note-taking skills and could use a model to follow Study group members that need a central repository for notes and a way to merge those notes together. Whatever the reason, Studyers.com , a website that claims to be "the easiest way to take notes on lessons," wants to be their cloud-based alternative to the traditional notebook. The site is currently in the alpha stage, so access is restricted at this time.
A New Way For Students To Share Notes & Learn Together