Role Playing Games
Dragon's Lair Comics & Fantasy® Green Ronin Publishing Anniversary: Party: noon-4 p.m. Sunday, Oct. 3, 2010 14725 NE 20th St., Suite A, in Bellevue, Wash.; 425.562.2025www.dlair.net Guests Invited to Enjoy Exciting Game Demos, Q-and-A, Raffle, Special Sales, Cake Bellevue, WA—Dragon's Lair Comics & Fantasy® Bellevue will host the 10th anniversary celebration of Seattle-based Green Ronin Publishing on Sunday, Oct. 3, 2010, with special demos and appearances during a party at the store, 14725 NE 20th St., Suite A. Planned for noon to 4 p.m. at the store on Sunday, October 3, are two rounds of demonstrations of Green Ronin products, including DC Adventures, its super-hero role playing game based on the award-winning Mutants & Masterminds system; the Dragon Age RPG, based on BioWare's critically acclaimed Dragon Age: Origins computer game; A Song of Ice and Fire RPG, based on George R.R.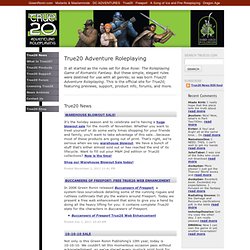 True20 Adventure Roleplaying: True fun, true excitement, true adventure, True20!
Green Ronin Publishing: Be Your Own Master
By Joseph Carriker Last week, the gaming community was faced with the loss of one of our own once again: Aaron Allston, well-known designer for Champions and Dungeons & Dragons, and author of numerous novels, particularly in the Star Wars universe. And though I didn't know Mr. Allston myself, I couldn't help but feel a sense of some loss—a loss that I wasn't entirely comfortable with, to be honest.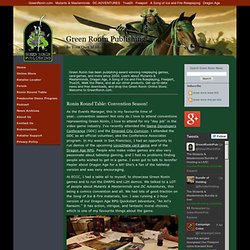 CthulhuTech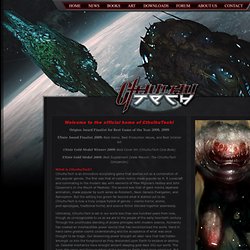 Welcome to the official home of CthulhuTech! Origins Award Finalist for Best Game of the Year 2008, 2009 ENnie Award Finalist 2009: Best Game, Best Production Values, and Best Interior Art
of the Coast Official Home Page - Dungeons and Dragons
Mutants & Masterminds Headquarters -- MutantsAndMasterminds.com
February 26, 2014 Atlas of Earth-Prime: United States of America (PDF) Today we kick off our next PDF series for Mutants & Masterminds with Atlas of Earth-Prime: United States of America. This 11-page, full-color PDF complete with Hero Lab files is available for sale in our Green Ronin Online Store for just $1.99!