Paper
Gregory Euclide | 2011
Paper Houses
There is a glorious exhibition happening at the East Gippsland Art Gallery in Victoria called Books…Beyond Words – Evolution. An amazing lineup of artists are taking part in this show including one of my favourite artists Kim McKechnie. This is her paper work titled 'The Great Australian Dream'. Look at all those beautiful houses – I dream, dream, dream! It will be on show at the gallery until the 2nd of September.
Newspaper Sculptures
3D Paper Sculptures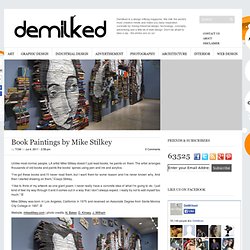 Unlike most normal people, LA artist Mike Stilkey doesn't just read books, he paints on them. The artist arranges thousands of old books and paints the books' spines using pen and ink and acrylics. "I've got these books and I'll never read them, but I want them for some reason and I've never known why. And then I started drawing on them," [ 1 ] says Stilkey. "I like to think of my artwork as one giant poem. I never really have a concrete idea of what I'm going to do.
Book Paintings \ Mike Stilkey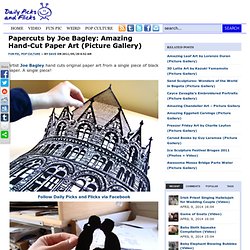 Fun Pic , Pop Culture — By Dave on 2011/05/29 6:52 AM Artist Joe Bagley hand cuts original paper art from a single piece of black paper. A single piece! Follow Daily Picks and Flicks via Facebook
Paper Art
The times when paper was considered to be the primary medium for artistic expression is long gone. Many writers and designers use digital media to improvise and develop their ideas. However, there is something particuliar in this "physical" canvas — something that keeps us getting back to paper when we want to brainstorm ideas in a notebook, doodle around in a sketchbook, collect inspiration in a scrapbook or just draw some sketches for the next project. In fact, paper is even more powerful than that. It is a very flexible medium.