Hermione1398
Sarah
I AM AWESOME (:
Top 7 Websites to Help with Homework | Youthink. How to learn Korean. » Viso114. 25 clever ideas to make life easier. Via: amy-newnostalgia.blogspot.com Why didn't I think of that?!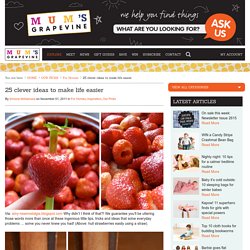 We guarantee you'll be uttering those words more than once at these ingenious little tips, tricks and ideas that solve everyday problems … some you never knew you had! (Above: hull strawberries easily using a straw). Via: apartmenttherapy.com Rubbing a walnut over scratches in your furniture will disguise dings and scrapes. The DIY Stain Removal Infographic Is a Quick Reference for Cleaning Common Stains. Top 10 Kitchen Tricks That Speed Up Cooking. So you've started beefing up your cooking skills, but the process is still a little tedious.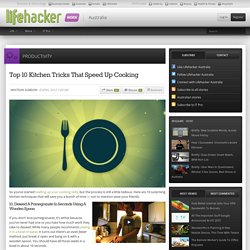 Here are 10 surprising kitchen techniques that will save you a bunch of time — not to mention wow your friends. Please enable JavaScript to watch this video. 10. Deseed A Pomegranate In Seconds Using A Wooden Spoon. Pin Up. Vintage pin up dresses are our specialty here at Unique Vintage, and it is our mission to deliver you the perfect fit and only the most flattering fits.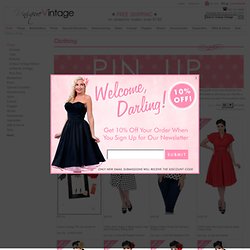 For ladies with a love for all things rockabilly, we offer a number of form-fitting retro dresses with longer lengths, tailored waists and vintage-inspired necklines that deliver a dose of femininity to balance their edgy skull details. For the same curvy silhouette with a bit more ladylike flair, we have pin up outfits that are classy and modest enough for the office. 15 Chic and Creative Ways to Tie a Scarf. How to tie a half-bow scarf To tie the half-bow scarf, you should first loop the scarf around your neck and tie once– like the first step of tying your shoelaces.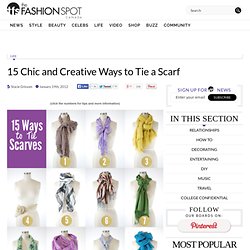 Then, take one side of the scarf and make a one loop, as if you were only tying one side of the bow on your shoes. Take the longer section of the scarf and wrap it in front and then behind the entire scarf, next to your neck. Fluff the loop afterwards to taste. Nintendo Characters – Pt. 4. If you're an avid reader of CF, you know that we believe fashion inspiration goes beyond storefronts, magazines and runways.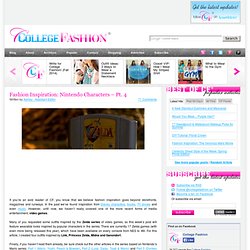 In the past we've found inspiration from Disney characters, books, TV shows and even music. However, until now, we haven't really covered one of the more recent forms of media entertainment, video games. Many of you requested some outfits inspired by the Zelda series of video games, so this week's post will feature wearable looks inspired by popular characters in the series.
There are currently 17 Zelda games (with even more being released this year), which have been available on every console from NES to Wii. - ifGif. Stick-Twist.jpg (JPEG Image, 1050 × 750 pixels) 25 Ways 2 Make Money 4 Teens. Earn Reward Points and Redeem Them For Free Stuff at Swagbucks. How To Tie a Wind and Fushnicken Resistant Scarf Knot. 110302-MINT-TIPSa.png (PNG Image, 1300 × 1926 pixels) Little Boxes - Walk off the Earth. Women fashion shoes, boots, retro indie clothing & vintage clothes. Tops Sleeveless Short Sleeve.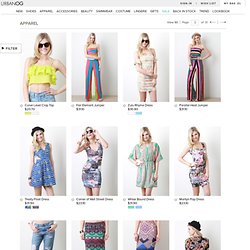 Best Selling earrings. 888.365.0056 . live chat wish list & registry. check order status Find the best gift ideas for men, women and kids at UncommonGoods.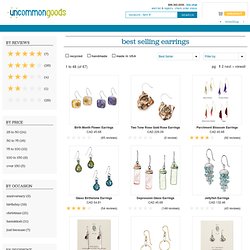 We carry thousands of cool gifts, from fun jewelry and accessories to creative home decor and kitchen items. Story & Mission. Pretty Pieces by Tina Marie. <div id="javascript-nag" class="notice"><p> Take full advantage of our site features by enabling JavaScript.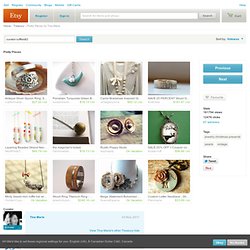 <a href=" more</a>. </p></div> Help Etsy. Lips of Animals - Gabbys M.'s (GabbysMakeup) Photo. How To Get Swirly, Tie-Dyed Nails. Gift-flowchart2.png (PNG Image, 800x1855 pixels) - Scaled (34%) Still life: Bent objects. UPDATE: The Return of Bent Objects Wires transform these objects from inanimate to hilarious works of art.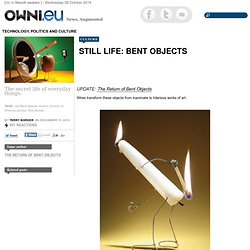 Little polish girl McDonalds as Sculpture Materials Yeah, this is where those come from. Angular Momentum. Accessories MP3 Player by Lee Won-jun. Strange (But Useful) Human Tricks | Can You Believe This? Greatest Proposal Ever?  Amazing Shadow Art. These pictures of baby animals and cute poses are too much, they will make your smile for the day! Absolutely gorgeous little creatures. Broadcast Yourself. Robin Sparkles - "Let's Go To The Mall" (full version) Lily Allen - The Fear. No Way Lyrics - AVPS. Reggie Watts' Uncensored Music Video for "F*ck Sh*t Stack"
Juliansmith87's Channel. Glee Cast - I Feel Pretty / Unpretty (Glee Cast Version) Beautiful- Glee Version [FULL VERSION WITH LYRICS] I'm Not Gonna Teach Your Boyfriend How to Dance With You - Glee Cast (HQ FULL STUDIO) w/Lyrics. Funny Kurt Hummel moments on Gee. Benni Cinkle - Can You See Me Now. Apple Swan - How to Make an Apple into a Swan. Best Selling travel. Login 0 items shipping to: 888.365.0056 . live chat wish list & registry. check order status Find the best gift ideas for men, women and kids at UncommonGoods.
We carry thousands of cool gifts, from fun jewelry and accessories to creative home decor and kitchen items. TofAwesome.
---