Music Industry
LSE_MPPbrief1_creative_destruction_and_copyright_protection
LSE Media Policy Project: Media policy brief 1Creative destruction and copyright protection Acknowledgements The authors would like to thank Professors Robin Mansell and SoniaLivingstone for their insightful editorial contributions on earlier drafts of thismedia policy brief. We are also grateful for the research and organizationalassistance of our resourceful and talented interns: Dorota Kazcuba, NateVaagen, Ben Murray, Davide Morisi and Liam O'Neill. In addition, Jim Killockand Mark Margaretten contributed to stimulating discussion during theproject's expert meeting on 'File-sharing, the DEA and its implementation'.The LSE Media Policy Project is funded by the Higher Education InnovationFund 4. LSE Media Policy Project Series EditorsZoetanya Sujon and Damian Tambini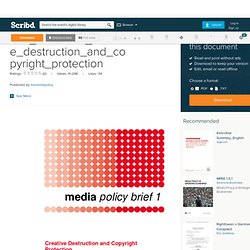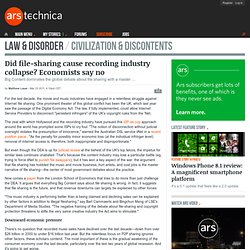 For the last decade, the movie and music industries have engaged in a relentless struggle against Internet file sharing. One prominent theater of this global conflict has been the UK, which last year saw the passage of the Digital Economy Act. The law, if fully implemented, could allow Internet Service Providers to disconnect "persistent infringers" of the UK's copyright rules from the 'Net. The zeal with which Hollywood and the recording industry have pursued this ISP-as-cop approach around the world has prompted some ISPs to cry foul.
Did file-sharing cause recording industry collapse? Economists say no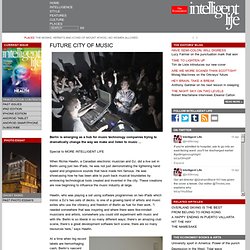 FUTURE CITY OF MUSIC
Berlin is emerging as a hub for music technology companies trying to dramatically change the way we make and listen to music ... Special to MORE INTELLIGENT LIFE When Richie Hawtin, a Canadian electronic musician and DJ, did a live set in Berlin using just two iPads, he was not just demonstrating the lightening hand speed and progressive sounds that have made him famous. He was showcasing how he has been able to push back musical boundaries by embracing technological tools created and invented in the city.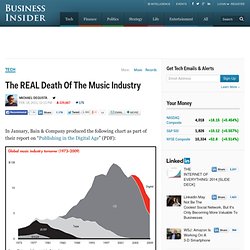 In January, Bain & Company produced the following chart as part of their report on "Publishing in the Digital Age" (PDF): Bain Analysis Then on Tuesday, someone posted it on Flickr. Subsequently, Peter Kafka of Wall Street Journal's MediaMemo noticed it and passed it along to Jay Yarow, who made it Business Insider's Chart of the Day on Wednesday, citing Kafka and the Flickr post.