Processing
The following libraries are included with the Processing software. To include a library, select its name from the "Import Library..." option in the Sketch menu. These libraries are open source; the code is distributed with Processing.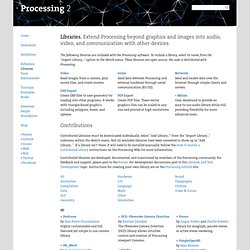 Libraries
A simple particle system physics engine for processing. I've designed this to be application / domain agnostic.
unnamed pearl
Conçu par des artistes, pour des artistes, Processing est un des principaux environnements de création utilisant le code informatique pour générer des œuvres multimédias sur ordinateur. L'attrait de ce logiciel réside dans sa simplicité d'utilisation et dans la diversité de ses applications : image, son, applications sur Internet et sur téléphones mobiles, conception d'objets électroniques interactifs. Processing fédère une forte communauté d'utilisateurs professionnels et amateurs : artistes, graphistes, vidéastes, typographes, architectes, web designers et designers en général.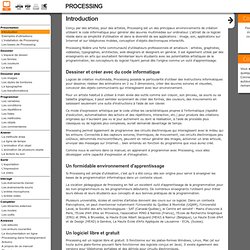 Déjà 16335 visites sur cette page.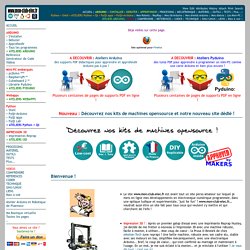 OutilsProcessingJSIntro
Livecodelab: Tutoriel en ligne
Welcome. Livecodelab is a special secret place where you can make fancy "on-the-fly" 3d visuals and play awesomely offbeat (literally) sounds. "On-the-fly" meaning: as you type. Type just three letters: "box", and boom! a box appears. No clicking play, no waiting, no nothing.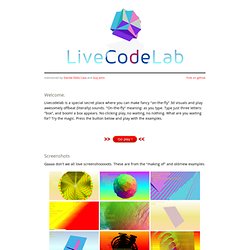 Nom de couleurs HTML