Artistes et étudiants
La Patte de Renart - Part 50
unnamed pearl
À propos Nicolas Guichard, concepteur réalisateur multimédia freelance au sein du collectif Lab212 . Diplômé de Gobelins en Concepteur Réalisateur Multimédia 2008, 2 ans d'expérience en Agence, formation initiale d'arts appliqués (licence, BTS et Bac). » linkedIn » viadeo » blog
Design graphique interactif - Nicolas Guichard - Data Design Book
Il y a une sardine géante dans le Vieux Port
unnamed pearl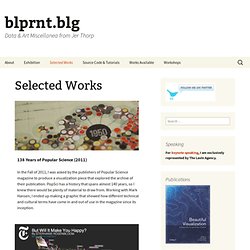 138 Years of Popular Science (2011) In the Fall of 2011, I was asked by the publishers of Popular Science magazine to produce a visualization piece that explored the archive of their publication. PopSci has a history that spans almost 140 years, so I knew there would be plenty of material to draw from.
Selected Works
Des paysages recomposés
Des sculptures sur livres
Des scènes découpées dans des livres
Vera Molnar
Luna Maurer
Abstracts 1-3 : Built with Processing
Faire toute la lumière sur un principe mathématique inexpliqué : pour l'édition 2011 de la biennale essonnienne La science de l'art, deux scientifiques et un artiste relèvent le défi. "Tout part d'une intuition". Oui, c'est à partir d'une simple intuition que naissent les idées créatrices de Flavien Théry, artiste invité de la biennale essonnienne d'art contemporain La science de l'art. Intuition, c'est justement le nom de l'oeuvre qu'il présente. Comme pour mieux souligner ce point de convergence entre démarches artistique et scientifique.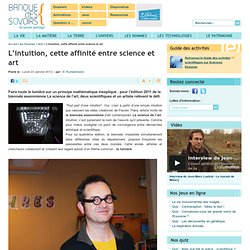 L'intuition, cette affinité entre science et art
Lalla Essaydi on artnet
Lisaa Graphisme Illustration Webdesign Paris : Les projets professionnels des étudiants - Sophie Fakis
Vers un usage responsable...
Lor M. Le diplôme de DSAA - La surdité
une cuisine incomprise
Tout le monde est graphiste