Music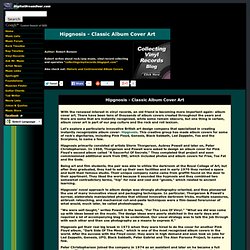 Hipgnosis - Classic Album Cover Art
With the renewed interest in vinyl records, an old friend is becoming more important again- album cover art. There have been tens of thousands of album covers created throughout the years and there are some that are instantly recognized, while some remain obscure, but one thing is certain, album cover art is part of our pop culture and the rock and roll lexicon. Let's explore a particularly innovative British art design company that specialized in creating instantly recognizable album cover- Hipgnosis. This creative group has made album covers for some of rock's dignitaries, including Pink Floyd, Genesis, Black Sabbath, Led Zeppelin, Yes and the Scorpions, to name a few. Hipgnosis primarily consisted of artists Storm Thorgerson, Aubrey Powell and later on, Peter Christopherson.
uuLyrics - lyrics with youtube videos
Recently, the UK government passed The Digital Economy Act which included many, perhaps draconian, measures to combat online music piracy (including withdrawing broadband access for persistent pirates). Much was proclaimed about how these new laws would protect musicians and artists revenue and livelihoods. But how much money do musicians really get paid in this new digital marketplace? This image is based on an excellent post at The Cynical Musician called The Paradise That Should Have Been about pitiful digital royalties. (Thanks to Neilon for pointing that out). I've taken his calculations and added a few more.