Graphix
Painter
Infographic. Paint Shop Pro. Paper. 8-bit. Airbrush. Icons. Branding. Logo. Graphic blog. Photoshop Shortcuts – The Fun Way. In this post I'm going to focus on several Photoshop shortcuts that I tend to use more often than others.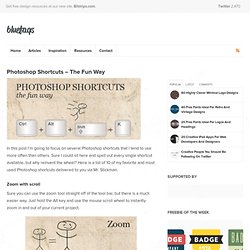 Sure I could sit here and spell out every single shortcut available, but why reinvent the wheel? Here is a list of 10 of my favorite and most used Photoshop shortcuts delivered to you via Mr. Stickman. From Sketch to Vector. Textorizer - vectorize a picture using text strings. Graphic Design Blog – An Ultimate Resource for Graphic Designers. Vector. Photoshop. Computer Arts - Home. GraphicRiver. Actus et Graphisme. Photoshop.
Galleries. Graphic designer. Digital Image Magazine.
---