Examples of Learning tech
'Webinar' method of learning could change the university experience for ever - Higher, Education. This is a webinar, and the delays to it caused by dodgy broadband here or there seem to add to our sense of togetherness rather than detract from it, whether we are in an office in Haiti, a tent in Darfur or lying on a bed in Oxford.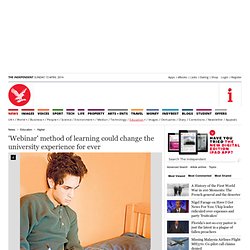 Webinars are, unsurprisingly, web-based seminars that began as one-way webcasts and have now evolved into interactive online conferences. Some may have as many as 1,000 people participating in them. And while those at the back of a classroom can never see, in a webinar everyone has a perfect view – and can see everyone else's annotations. What is more, each webinar can be recorded, and watched again.
E-assessment
Podcasting Toolbox: 70+ Podcasting Tools and Resources. Podcasting may not have lived up to the early hype, but with iPods and other MP3 players still selling like crazy, the potential audience for these audio shows is huge.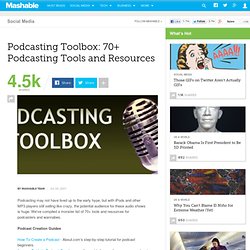 We've compiled a monster list of 70+ tools and resources for podcasters and wannabes. Podcast Creation Guides. My iPad Creativity Suite - The Constructivist Toolkit. By Blackboard. Skip to main content Introducing The New CourseSites Create up to 5 course websites, free.
Engage students in social learning. Weave multimedia into class content. Assess performance and manage grades. Moving Images: Case Study: Video Assist at the University of Nottingham. Need help with using still images, sound and video for educational purposes?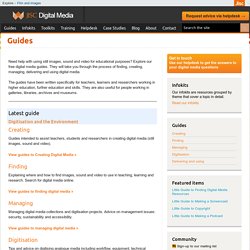 Explore our free digital media guides. They will take you through the process of finding, creating, managing, delivering and using digital media. The guides have been written specifically for teachers, learners and researchers working in higher education, further education and skills. They are also useful for people working in galleries, libraries, archives and museums. Latest guide.
Forms
Turnitin / plagiarism. Diagrams that changed the world. 22 November 2010Last updated at 12:01 A picture, the old adage goes, is worth 1,000 words. But in science a diagram can describe things that transcend the written word. A single image can convey the simple underlying pattern hidden by words or equations, says Marcus du Sautoy. Draw the right picture and you can literally transform the way we see the world. But a diagram is more than just a physical representation of what we see with our eyes. VLEs.
---