Recyled magazines
Art journaling. I used to have a really nice morning routine of waking up at 8, making tea and then sitting down to create a page in my art journal.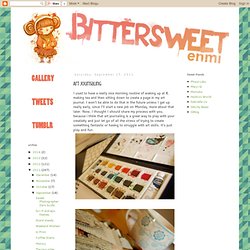 I won't be able to do that in the future unless I get up really early, since I'll start a new job on Monday, more about that later. Now, I thought I should share my process with you, because i think that art journaling is a great way to play with your creativity and just let go of all the stress of trying to create something fantastic or having to struggle with art skills. It's just play and fun. I keep a little box of magazine cutouts that I have collected over time. DIY Magazine Envelopes. As promised, here is a tutorial on making your own envelopes for stationery sets.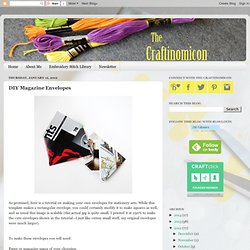 While this template makes a rectangular envelope, you could certainly modify it to make squares as well, and as usual this image is scalable (the actual jpg is quite small, I printed it at 250% to make the cute envelopes shown in the tutorial--I just like cutesy small stuff, my original envelopes were much larger). To make these envelopes you will need: Paper or magazine pages of your choosing. scissors or an X-Acto knife a ruler Envelope template (below) glue (elmer's or glue sticks work just fine--if you do not have glue, you can go without and use stickers to close your envelope as well) Start by printing the following template to your desired size:
Map love. How to make gift bags from newspaper. When I bought something at a store recently, the clerk handed me my purchase in a bag made from a newspaper.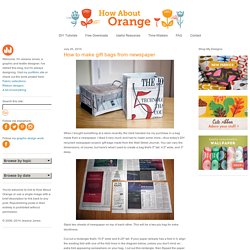 I liked it very much and had to make some more—thus today's DIY recycled newspaper project: gift bags made from the Wall Street Journal. You can vary the dimensions, of course, but here's what I used to create a bag that's 5" tall, 4.5" wide, and 3" deep. Stack two sheets of newspaper on top of each other. This will be a two-ply bag for extra sturdiness. Cut out a rectangle that's 15.5" wide and 8.25" tall. Toilet Paper Art « This Handmade Circus. This is absolutely the most popular piece of artwork in our home, so I decided that this would be the perfect tutorial to start with!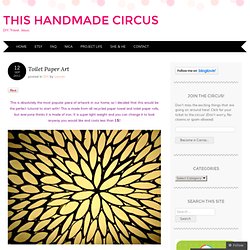 This is made from all recycled paper towel and toilet paper rolls, but everyone thinks it is made of iron. It is super light weight and you can change it to look anyway you would like and costs less than 1$! Duct Tape Joyful Flower – Tutorial. Remember when I showed you the Duct tape organizer I made for the pens in my desk?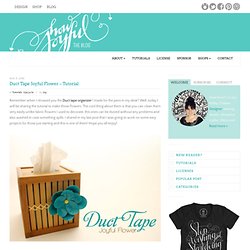 Well, today I will be sharing the tutorial to make those flowers. The cool thing about them is that you can clean them very easily unlike fabric flowers I used to decorate, this ones can be dusted without any problems and also washed in case something spills. I shared in my last post that I was going to work on some easy projects for those just starting and this is one of them! Hope you all enjoy! You Give Me A Book & I'll Give You a Flower. Origami Kusadama Flowers. DIY Mother's Day Corsage: Felt Dahlia Flower Brooch - Holidash News. Felt Rose tutorial and pattern. Hello everyone!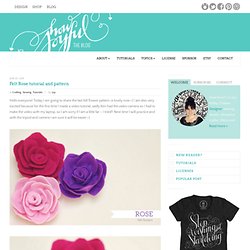 Today I am going to share the last felt flower pattern, a lovely rose =] I am also very excited because for the first time I made a video tutorial, sadly Ken had the video camera so I had to make the video with my laptop, so I am sorry if I am a little far – I tried!! Next time I will practice and with the tripod and camera I am sure it will be easier =] Your color choice of felt (I used 3 9″x12″sheets in different colors, and used a little bit more than half for each flower)Thread, needle and scissors.Hot glue gun.Download the pattern in case you need it (You will find 4 different sizes for you to play with!
) Coffee Filter Roses. Back in my failed former days as a window dresser, I got some good advice from Tanja, the Grand Dame of the cosmetics department.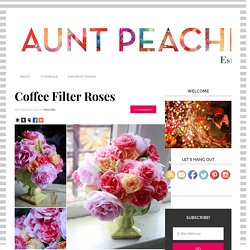 Originally from Romania, Tanja was widely renowned for her eyebrow waxing skills and had arrived at a point in her career when she only had to take one appointment a day, then happily dragged it out all afternoon. Most of the time was spent smoking and laughing and singing gypsy folk songs about beet salad, then more smoking and dispensing advice about important things like men, business, and unwanted hair.
Of the many things I learned from Tanja, there are three golden nuggets that stand out;Never brush your teeth with blue toothpaste.Men with excessively bushy eyebrows are likely to cheat on their wives.Women will buy anything wrapped in roses.* *Women married to men with excessively bushy eyebrows should expect a lot of roses. Always Chrysti - Always Chrysti - 100+ Ways to Creatively Reuse Old Magazines. TetraBox Light by Ed Chew. Liquid to Light Designer Ed Chew takes a green step in the right direction with the TetraBox lamp, a light object made from discarded drink packets that would have otherwise ended up in landfills already packed to the brim.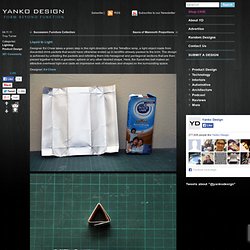 The design is achieved by unfolding the packets and refolding them into hexagonal and pentagonal sections that are then pieced together to form a geodesic sphere or any other desired shape. Here, the Epcot-like ball makes an attractive overhead light and casts an impressive web of shadows and shapes on the surrounding space. Designer: Ed Chew. Simple Centerpiece: Recycled Paper Bouquet Vase :: Green Your Decor. You all probably already know from my sunburst mirror that I have an affinity for home decor made of recycled magazine pages.
There's something to be said about turning a material destined for the recycling bin into something beautiful that you'll keep around for a long time to come. These paper bouquet vases are beautiful on their own, and even more so when single flowers are placed in the test tube bud vases dispersed throughout the vase. I think I'm going to get one of these for my desk. It will be a place to put a few freshly picked flowers to brighten up my work day and an homage to my days as a newspaper and magazine designer.
16 Beautiful Butterfly Craft Ideas. [ Close Privacy Policy ] Privacy Policy / Your California Privacy Rights Revised and posted as of March 4, 2013 Prime Publishing, LLC ("Company," "we" or "us") reserves the right to revise this Privacy Policy at any time simply by posting such revision, so we encourage you to review it periodically.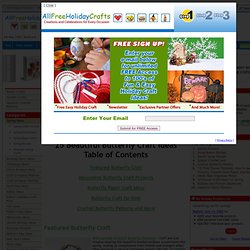 ---